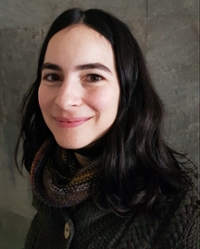 Ancois De Villiers
PhD Candidate
Name

A.C. De Villiers

Telephone

E-mail
Ancois de Villiers is a PhD candidate at the Graduate School of Social and Behavioural Sciences, Leiden University and Department of Conservation Ecology, Stellenbosch University in South Africa. Her work focuses on the resilience and transformation of social-ecological systems, with an academic background in both ecology and environmental anthropology.
Support
With support from the GreenMatter Bursary and NRF-Nuffic Doctoral Scholarship, she is currently completing a PhD based in South Africa on exploring the potential of monitoring, evaluation and learning (MEL) frameworks to support landscape-based initiatives with a focus on the implementation of some key elements for the psycho-social dimensions of transformjavascript:;ation and resilience.
Biography
Ancois comes from a mixed academic background, having completed two MSc degrees through which she explored the inter-related systems of values, beliefs, knowledge(s), and practices for natural resource management.
In 2013, she completed an MSc in Conservation Ecology (Stellenbosch University, cum laude) with an Innovation Bursary from the National Research Foundation (NRF). The dissertation compared decision-making frameworks and social processes that could support the adaptive capacity of land managers in the Karoo rangelands, South Africa.

In 2015, she completed an MSc in Environmental Anthropology (University of Kent, distinction) with funding support from the Commonwealth Scholarship Commission (CSC) and UK Government. The research explored the emerging "conscientious carnivore" discourse amongst producers and consumers of pasture-raised livestock to support food sovereignty in the British countryside.
Work experience
Beyond her academic achievements, Ancois has worked as a researcher for NGOs and environmental consultants on ecosystem-based adaptation and capacity development as part of local and international development initiatives. From 2015 to 2019, she was part of a project team at the Association for Water and Rural Development (AWARD) which developed and implemented a capacity building process for adaptation based on social learning, systems thinking principles and the emerging literature on the psychological barriers that inhibit action on climate change. As part of the USAID-funded programme Resilience in the Limpopo Basin – Olifants River Basin (RESILIM-O), the project involved engaging with a diversity of participants (including small-scale farmers, civil society organisations, municipal staff, and youth) and contributing to the development of provincial and national climate change policies in South Africa.
Transdisciplinary PhD
As of 2020, Ancois has embarked on the journey of completing a transdisciplinary PhD in partnership with Living Lands, an NPO based in the Baviaanskloof and Langkloof in South Africa who are facilitating collaborative and transformative processes to support sustainable livelihoods in landscapes.
PhD Candidate
Faculteit der Sociale Wetenschappen
Culturele Antropologie/ Ontw. Sociologie