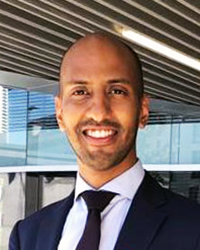 Amza Adam
PhD candidate
Name

A. Adam MA

Telephone

E-mail
Amza Adam is currently working on the field of Global Intellectual History and the history of Third World revolutionary thoughts. More specifically, he tries to understand how these revolutionary thoughts are embodied into individuals by looking into the figure of one of the most salient voice of the South during the decolonisation period and the transcontinental anti-imperialist politics of the 1960s-90s: Eqbal Ahmad.
More information about Amza Adam
Amza Adam aims to excavate Eqbal Ahmad's revolutionary thought from his large body of work whether in the form of speeches, essays or political actions. By presenting the intellectual praxis of such an important figure of the decolonisation period, Adam's thesis allows to reflect upon fundamental historical questions such as the relationship between ideas, individuals and history.
Fields of interest
Global Intellectual History, Ideas & Intellectuals, the History of Intellectuals, Postcolonial Intellectuals, Intellectual Biographies
Theories of Revolution, Third World Revolutions, Solidarity Studies, Afro-Asian Solidarity
Authenticity, Representations and Politics of Identities
Modernity, Rationality, Political Affect, Agency and Subjectivities
Anthropology & Epistemology, Politics of Historiography, Social Theory, Phenomenology
Political Islam and the Cold War
CV
Amza Adam holds a bachelor degree in anthropology from the University of Lyon II (France). After pursuing an MA program in ethnology at the University of Nice Sophia Antipolis he joined the Graduate Institute of International and Development Studies Geneva (Switzerland) and successfully submitted an MA thesis in International History under the supervision of Prof Cyrus Schayegh and Prof Jean-François Bayart.

Amza Adam is currently a research staff member of Leiden University and works on a PhD thesis entitled Eqbal Ahmad and Postwar Revolutionary Thought: A Global Intellectual History in the Age of Decolonisation under the supervision of Prof Jos Gommans and Dr Carolien Stolte.
Key publications
Adam, Amza. An Interview of Narendra Pachkhédé, "Form as History: Towards a Genealogy of the Muselmann", The Graduate Institute of International and Development Studies, April 4th 2018.
PhD candidate
Faculty of Humanities
Institute for History
Algemene Geschiedenis
No relevant ancillary activities