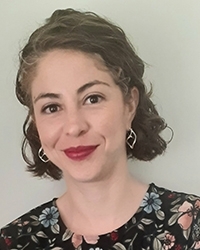 Amalia Campos Delgado
Assistant professor
Name

Dr. A.E. Campos Delgado

Telephone

E-mail

ORCID iD
Amalia Campos-Delgado holds a BA in Anthropology, a MRes in Sociocultural Studies, and a PhD in Politics from Queen's University Belfast. During 2019 she was Postdoctoral Fellow at the International Centre for Comparative Criminology at the Univeristé de Montréal.

Amalia's research agenda is linked to the field of Border Criminology. Through a multidisciplinary perspective that brings together perspectives from Political Sociology, International Relations, and Criminology, her research focuses on the geopolitics and micropolitics of migration control.

Using the Mexican Transit Control Regime as a case study, her current research examines the extraterritorial processes of migration governance and the dynamics of control, punishment, and resistance in this context.

Her research has been published in Geopolitics, The British Journal of Criminology, International Journal for Crime, Justice and Social Democracy, Migration Studies, Mobilities, International migration, and Revue européenne des migrations internationales. She is the editor (together with Ilse van Liempt and Joris Schapendonk) of the Research Handbook on Irregular Migration.
Assistant professor
Faculteit Rechtsgeleerdheid
Instituut voor Metajuridica
Van Vollenhoven Instituut
No relevant ancillary activities