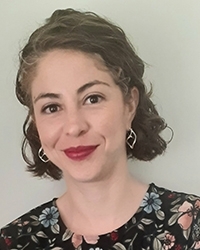 Amalia Campos Delgado
Postdoc / Lecturer
Name

Dr. A.E. Campos Delgado

Telephone

E-mail

ORCID iD
Amalia Campos-Delgado is Postdoc/Lecturer at the Van Vollenhoven Institute. Her postdoctoral researcher position is part of Leiden University's inter-disciplinary research program 'Citizenship, Migration and Global Transformations', particularly ascribed to the 'Social Citizenship and Migration' pillar.

She holds a BA in Anthropology, a MRes in Sociocultural Studies, and a PhD in Politics from Queen's University Belfast. During 2019 she was Postdoctoral Fellow at the International Centre for Comparative Criminology at the Univeristé de Montréal.

Amalia's research addresses the externalisation of border control towards transit countries and its repercussions on migration dynamics, policies, and, most importantly, on migrants' experiences. Her research focuses on the Transit Control Regime established in Mexico to detain and deter irregular migration in transit to the United States. In previous research, she analysed the creation, reproduction, and contestation of the regime through the narratives of agents of the state, irregular migrants, and migrants' rights organisations and advocates.

Her current research examines how punishment and deterrence are expressed and articulated in the deportability of migrants in Mexico. Particularly, she will (i) analyse the translations of the US-Mexico agenda of border control into the Mexican Transit Control Regime, (ii) examine the differential implementation of the regime of control depending on migrants' country of origin, and (iii) explore the notion of deportability through asylum seekers' and irregular migrants' experiences.

Postdoc / Lecturer
Faculteit Rechtsgeleerdheid
Instituut voor Metajuridica
Van Vollenhoven Instituut
No relevant ancillary activities