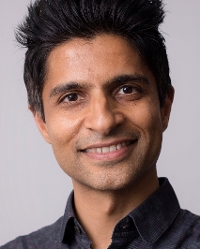 Ajay Gandhi
Assistant Professor
Name

Dr. A. Gandhi

Telephone

E-mail

ORCID iD
Ajay Gandhi is an Assistant Professor, teaching at Leiden University College and affiliated to the Institute for Area Studies. His research interests are in urban, political, and economic anthropology, with a geographical focus on South Asia. Extension number: 5125
Ajay Gandhi is an Assistant Professor at Leiden University's Faculty of Governance and Global Affairs. He teaches at Leiden University College and is affiliated to the Institute for Area Studies (LIAS). He was a research scientist at the Max Planck Institute for the Study of Religious and Ethnic Diversity in Göttingen, Germany, between 2011-2017, and received his PhD in Anthropology from Yale University in 2010. His research experience is primarily as an ethnographer of urban India, and his interests include:
Phenomenology, specifically how social practice is embodied, experienced, and performed.
Language and its symbolic and interpretive dimensions; the history and form of political concepts and everyday metaphors.
The urban condition: how cities are imagined and struggled over; their everyday civilities and historical materialities.
Postcolonial nation-states: asymmetries of entitlement, aspects of bureaucratic mediation, practices of ethno-religious accommodation.
Transactional sociality, encompassing cultural grammars of exchange and reciprocity, and the moral and material dimensions of value.
The Indian Ocean: the durability of transnational connections, the multiplicity of regulation and jurisdiction, the social dynamics of port-cities.
Ajay Gandhi is a regular contributor to the news site Scroll. He was a 2021-2022 Senior Fellow at Mecila, the Maria Sibylla Merian Centre Conviviality-Inequality in Latin America, and in 2022-2023 is a Visiting Scholar at Wolfson College, Oxford University.
Podcasts:
Assistant Professor
Faculty Governance and Global Affairs
Leiden University College
Work address
Anna van Buerenplein
Anna van Buerenplein 301
2595 DG The Hague
Room number 4.44
Contact
No relevant ancillary activities