Book
Rethinking Markets in Modern India: Embedded Exchange and Contested Jurisdiction
Published on 26 February 2021.
Author

Ajay Gandhi

Date

26 February 2021

Links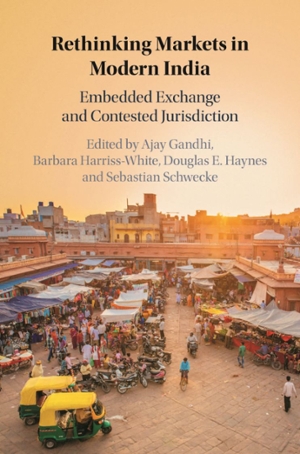 Edited by Ajay Gandhi, Universiteit Leiden, Barbara Harriss-White, University of Oxford, Douglas E. Haynes, Dartmouth College, New Hampshire, Sebastian Schwecke, Indian Institute of Management, Calcutta
To people operating in India's economy, actually existing markets are remarkably different from how planners and academics conceive them. From the outside, they appear as demarcated arenas of exchange bound by state-imposed rules. As historical and social realities, however, markets are dynamic, adaptative, and ambiguous spaces. This book delves into this intricate context, exploring Indian markets through the competition and collaboration of those who frame and participate in markets. Anchored in vivid case studies – from colonial property and advertising milieus to today's bazaar and criminal economies – this volume underlines the friction and interdependence between commerce, society, and state. Contributors from history, anthropology, political economy, and development studies synthesize existing scholarly approaches, add new perspectives on Indian capitalism's evolution, and reveal the transactional specificities that underlie the real-world functioning of markets.
Podcast: