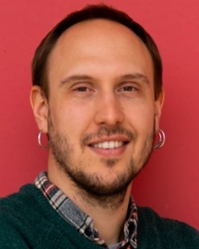 Aitor Burguet-Coca
Guest Researcher
Name

Dr. A. Burguet-Coca

Telephone

E-mail
Aitor Burguet-Coca is a visiting researcher at the Faculty of Archaeology
Research
I am an early career researcher with a deep interest in human uses of fire and plant management across Prehistory. My PhD research has been focused on the study of the pyroarchaeological record from the Middle Palaeolithic to the Bronze Age, including hearths and burned dung sequences called fumiers.
I have deep experience in the analysis of phytolith and dung spherulite assemblages, in the acquisition and analysis of mineral signals through Infrared spectra (FTIR) and in the design and development of archaeo-experimental projects.
My research is distinguished by its multidisciplinary and the integration of different disciplines based on the analysis of the microarchaeological record, to develop a robust interpretation of the pyroarchaeological record and human-plant management from a wide range of archaeological sites.
To date, my scientific interest and scientific production reach the study of a wide variety of materials, archaeological contexts, and issues, structured around four main lines of research:
Palaeolithic pyroarchaeology and fuel management.

Fumiers sequences and animal-plant interactions.

Experimental Archaeology and modern reference collection.

Archaeobotanical residues from different materials.

My upcoming research will ambition to go in-depth with the analysis of pyroarchaeological records, increasing the geographic and temporal range and expanding the available microarchaeological tools. In this sense, my postdoctoral research focuses on the characterization of the pyroarchaeological record in the Middle Pleistocene archaeological record. The selected sequences have two elements in common: the indirect evidence of fire, in form of burned remains and the presence of charcoals; and the chronological range, between 400-300ky.
I will explore the suitability of the new methods for discerning the anthropogenic origin of the fire and generate new analytical and methodological approaches to apply widely in any type of fire or fire-related feature, without chronological or geographical constraints.
The goal is to generate new data that will have an impact on the debate about the use of fire, betting on a powerful methodological structure to position the project results in a prominent place to advance knowledge about pyrotechnology in genus Homo.
Curriculum vitae
2015-2020 - International Doctorate in Quaternary and Prehistory - Universitat Rovira i Virgili & Catalan Institute of Human Paleoecology and Social Evolution (IPHES-CERCA) (Tarragona, Spain).
2012-2014 - Master's Degree in Quaternary Archaeology and Human Evolution - Universitat Rovira i Virgili (Tarragona, Spain).
2008-2012 - Bachelor's degree in History - Autonomous University of Barcelona (Barcelona, Spain).
Guest Researcher
Faculteit Archeologie
Archaeological Sciences
Bio-Archaeology
Work address
Van Steenis
Einsteinweg 2
2333 CC Leiden
Room number C1.14
Contact