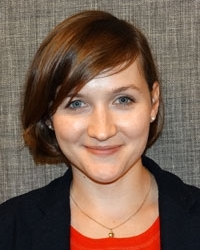 Agnieszka Kazimierczuk
Guest Staff Member
Name

Dr. A.H. Kazimierczuk

Telephone

E-mail

ORCID iD
For an overview of Agnieszka Kazimierczuk's research and publications, visit her profile on the ASCL website.
Agnieszka Kazimierczuk is a PhD candidate who works as a junior researcher in the framework of the NWO-funded project Dutch Multinational Businesses, Dutch Government and the Promotion of Productive Employment in Sub-Sahara Africa: A Comparative Study of Kenya and Nigeria, which is part of the INCLUDE research programme. Her research is focused on Kenya.
An overall objective of her study is to understand the impact of the daily operations and the Corporate Social Responsibility activities of the international (Dutch) companies on promotion of productive employment and inclusive growth in Kenya. She looks into two sectors: flowers and energy. Lake Turkana Wind Power project is one of the main case studies. Ultimately, her ambition is to provide Dutch multinationals and government with evidence-based research and policy recommendation on how to promote responsible business, productive employment and consequently inclusive growth in Kenya, Nigeria and beyond.
Prior to her work at the ASCL, Agnieszka worked as a junior researcher in the PADEV project. Her fieldwork in Ghana (2008 and 2010) resulted in a participatory poverty assessment and a solid evaluation of development projects conducted among socially excluded groups of people, namely the poor and children. The results of this cutting-edge research formed part of the PADEV project and were presented at public seminars and conferences (see here). Between February 2013 and August 2014, she was teaching a course in Research Methods and Techniques for Doing Fieldwork in Developing Countries for master students of International Development Studies at the University of Amsterdam. She also engaged in a number of consultancies with UvA, WFUNA and KIT. She is the PhD Representative at the ASCL.
Agnieszka holds a BA in Economics from Warsaw University (Poland) and a MSc in International Development Studies from the University of Amsterdam (UvA).
Guest Staff Member
Afrika-Studiecentrum
Gasten/Guests
No relevant ancillary activities