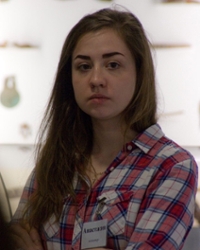 Anastasia NIKULINA
PhD candidate / Marie Curie Early Stage Researcher
Name

A. NIKULINA

Telephone

E-mail
Anastasia Nikulina is a TERRANOVA PhD candidate at the Faculty of Archaeology.
Office days
Monday to Friday
Research
Anastasia's research is a part of Marie Sklodowska Curie Programme TERRANOVA "The New Learning Initiative between Humanities and Science: Mapping Past Environments and Energy Regimes, Rethinking Human Environment Interaction and Designing Land Management Tools for Policy".
Anastasia focuses on the impact of the earliest societies of Europe (Palaeolithic - Mesolithic hunters and gatherers). The project specifically concentrates on the influence of fire use on early prehistoric landscapes. The project uses a combination of methods (Agent-Based Modelling, GIS) and proxies (archaeological, palaeoenvironmental) in order to model landscape evolution and identify the possible roles of human activities in these transformations.
Curriculum vitae
Anastasia obtained both her BA (History) and research MA (Archeology of North and Central Asia) at Novosibirsk State University (Novosibirsk, Russia). Additionally, she participated in various workshops, conferences and had internships in different countries (Russia, France, Italy and Germany). Anastasia has a strong interest in multidisciplinary research with application of digital techniques for understanding human-environment relationships. Anastasia's work experience includes Sobolev Institute of Geology and Mineralogy and Institute of Archaeology and Ethnography (Siberian Branch of the Russian Academy of Sciences)as well as participation in different archaeological field works in Russia and France.
PhD candidate / Marie Curie Early Stage Researcher
Faculteit Archeologie
World Archaeology
Human Origins
Work address
Van Steenis
Einsteinweg 2
2333 CC Leiden
Room number A1.08
Contact
No relevant ancillary activities