Developmental and Educational Psychology
Research
The main focus of our research programme is on adolescence, a key transitional period in human development. The programme puts emphasis on combined experimental behavioural and neural analysis of normative transitions and deviations in adolescent development.
Aim of the programme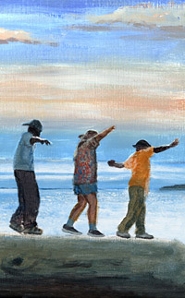 Researchers in our programme ' Pathways through adolescence' aim to understand the various neural, cognitive and behavioural changes that occur during the period of adolescence. The programme combines fundamental research using experimental behavioural, brain and longitudinal approaches to applied research which connects basic developmental research to domains of educational and clinical assessments and interventions.
The research focuses mainly on behavioural and brain correlates of cognitive development, decision-making, processing of basic and complex emotions, perspective-taking and sensitivity to social rejection. Insights gained from these studies are applied in research on cognitive training and treatment of anxiety-based school refusal.
Research team and research opportunities for students
Our research team consists of staff and PhD candidates from interdisciplinary backgrounds; all trained at internationally acclaimed universities. Our research programme provides ample opportunities for ambitious master's and doctoral students to participate in cutting-edge research and be supervised by researchers of various expertises.
Research groups
The unit's research programme is structured in five thematic research groups. Extensive collaborations have been set up both between these groups and with external parties. The four groups are: