Research project
Strengthening Legal Education in Eastern Indonesia (SLEEI)
How can legal education in Indonesia become more relevant for supporting the rule of law and providing legal services that common citizens need?
Duration

2019 - 2022

Contact

Funding
The SLEEI project has aimed at strengthening legal education, which is a crucial part of maintaining the rule of law in the country. Many Indonesian citizens cannot realise their rights and continue to face a lack of legal certainty. It is often unclear what laws apply in particular situations and it is hard to predict how the courts or the government will interpret them. SLEEI has been focusing on course development and teaching methods that will produce graduates who master key legal skills required by the labour market, and who are aware of the ethical and inequality/gender issues involved in the problems they address.
The project has been conducted by a consortium of four law faculties in Eastern Indonesia (Ambon, Kupang, Waingapu, Mataram), two law faculties on Java (Gadjah Mada University and Jentera Law School), one in the Netherlands (VVI Leiden), and the Royal Tropical Institute (KIT). The consortium builds on existing collaboration between Indonesian partners and Leiden Law School, including guest lecturing, masterclasses, joint research, and project based collaboration. With a central role for experts who are alumni of LLS (PhD) and now work at top universities in Indonesia, this project changed the collaboration's focus from primarily Netherlands-Indonesia exchanges to structured interaction, sharing and support between and among Indonesian law faculties.
For more information on the project's design and results please read the SLEEI project brief
Results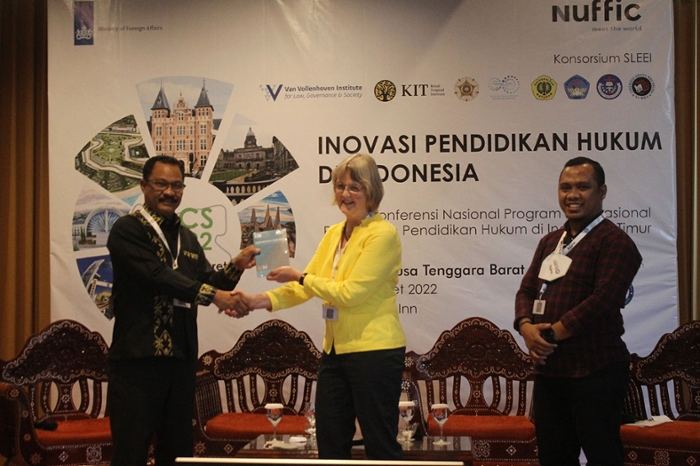 Although fighting the culture of top down education and stimulating lecturers' confidence to adapt courses to local context priorities is not an easy job to be completed in three years, the 'SLEEI inheritance' already has three main components.
The first main result is the integration of the SLEEI themes in existing law courses. In the course outline or syllabi law lecturers of the four eastern Indonesian universities inserted sessions and literature about critical legal analysis, gender, ethics and added examples from the local context. In total 52 courses have been innovated in this way. Additionally and not planned in the SLEEI project proposal, law lecturers decided to write study guides for their own courses, books of 75-100 pages summarizing the content of their courses, that now include parts on gender, ethics and 'local law'. This is a most wonderful result in terms of sustainability of the SLEEI approach. By August 2022 the four universities had each 5 draft study books ready.
The second result is commitment to further cooperation after SLEEI as a NUFFIC project has ended. At the final conference in Mataram, Lombok in March 2022, the conference participants – including law lecturers from 20 universities that have not been part of SLEEI – committed to continue and expand the work of SLEEI through a joint declaration of 18 recommendations for further cooperation. As one participant expressed: "We really hope that the SLEEI process of 'colouring' the system for legal education in the country will continue".
The third result is publications. The main book of SLEEI "Inovasi Pendidikan Hukum di Indonesia" is a comprehensive Resource Guide on Strengthening Legal Education in which the training materials are summarized and made available to all law lecturers who want to innovate their own law course. The guide is written in Bahasa Indonesia with many examples from East Indonesia. It will be used in the NUFFIC TMT training in which the VVI cooperates with the Brawijaya University of Malang and other local experts, and will be core material for the new Association of Socio-legal Studies in Indonesia.
You can download the book here
Follow up
Although SLEEI has come to an end as a project, the approach and activities will be continued in Indonesia. Updates on follow-up initiatives and information on who to contact in Indonesia can be found through SLEEI's website: https://sleei.law.ugm.ac.id/. VVI will remain partner in the SLEEI network and can be contacted through vollenhoven@law.leidenuniv.nl.
Publications
Apart from the main book, as mentioned above, SLEEI has led to several other publications:
Bedner A.W. & Vel J.A.C. (2021), Legal Education in Indonesia, The Indonesian Journal of Socio-Legal Studies 1(1): 1-30 (6)
Abstract


Many of the discussions about legal education in Indonesia are similar to the ones conducted in other countries. They reflect the tension between a liberal legal education on the one hand and a vocational training on the other, as well as the tension between a legal education preparing students for legal practice and one preparing them for a broad range of generalist positions. However, we argue that legal education in Indonesia is also marred by problems of the legal system itself and by a lack of communication between its constituent parts – the judiciary, the legislative, the bar, public prosecutors, and legal scholars. Caused by years of authoritarian rule, these problems have resulted in an unproductive and largely misguided debate in law faculties between proponents of legal formalism and others promoting a more contextualised approach to law. Nonetheless, it is undeniable that overall the quality of legal education has improved during the past 20 years and that this process will likely continue.



Susanti, L., Nugroho A.D., Simarmata, R., & Utama, T.S.J. (2022). Problem-based learning dan clinical legal education: Pengalaman dan refleksi fakultas hukum UGM mendorong pembelajaran interaktif. Fakultas Hukum Universitas Gadjah Mada.


This is a paper

on UGM's experiences on developing interactive learning in legal education at the Gadjah Mada University. The authors describe UGM's experiences in developing two interactive learning methods namely problem-based learning (PBL) and clinical legal education. This paper is available (in Bahasa Indonesia) through the following link: https://rispub.law.ugm.ac.id/wp-content/uploads/sites/1049/2022/07/PBL-dan-CLE_Paper-SLEEI.pdf




Working paper

"Strengthening legal education: The SLEEI approach for innovating university courses" by Laurens van Veldhuizen, Herlambang Wiratraman and Jacqueline Vel - November 2022


Three reports for monitoring and evaluation of the SLEEI project


4a. SLEEI base line report (January 2020)
4b. SLEEI Mid-term Evaluation Report

(December 2020)


4c. SLEEI Final self-assessment by the four universities in Eastern Indonesia (August 2022)

Blogs and short articles:
https://www.kit.nl/local‐ownership‐creates‐project‐resilience/




https://leidenlawblog.nl/articles/corona‐crisis‐related‐inequality‐in‐access‐to‐university‐education‐in‐eastern‐indonesia


See all publications and short reports in Bahasa available at SLEEI's website: https://sleei.law.ugm.ac.id/
Videos
Strengthening Legal Education in Eastern Indonesia, a short video produced by Leiden University, available at:

https://www.universiteitleiden.nl/en/news/2022/05/video-series-the-added-value-of-collaboration-with-indonesia


Short video's in which the Indonesian trainers of SLEEI explain the central themes for innovating legal education: gender and law, law in local context, legal skills, law and ethics, and interactive teaching. The videos (In Bahasa Indonesia) are available at:

https://sleei.law.ugm.ac.id/galeri-video/


Experiences with developing interactive learning in legal education at the Gadjah Mada University ("PBL dan CLE: Pengalaman dan Refleksi Fakultas Hukum UGM Mendorong Pembelajaran Interaktif")This video describes UGM's two experiences in developing two interactive learning methods namely problem-based learning (PBL) and clinical legal education. This video is available (in Bahasa Indonesia) on the following link:

https://rispub.law.ugm.ac.id/2022/07/21/pbl-dan-cle-pengalaman-dan-refleksi-fakultas-hukum-ugm-mendorong-pembelajaran-interaktif/