PhD project
Written Culture at Ter Duinen: Cistercian Monks and their Books, c.1140-c.1240
The physical features of twelfth-century manuscripts from the Flemish abbey of Ter Duinen – such as script, page layout, and reading aids – show how their readers organized, interpreted, and transmitted knowledge.
Duration

2012 - 2017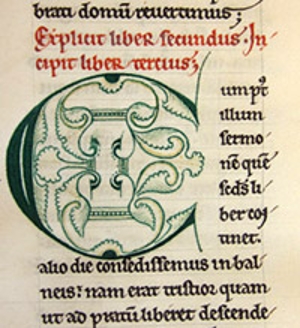 Written Culture at Ter Duinen: Cistercian Monks and their Books, c.1140-c.1240 uses both traditional and new methodologies to examine the extant twelfth- and early thirteenth-century manuscripts from the Flemish abbey of Ter Duinen. Quantitative codicological and palaeographical patterns in the corpus are identified and defined by analyzing substantial data for each manuscript unit, gathered within a customized, XML-compatible database. Scriptorium and library practices are then situated within the context of the Long Twelfth Century (c.1075–c.1225) and the abbey's Cistercian network to reveal how the monks of Ter Duinen organized, accessed, interpreted, and transmitted knowledge in the manuscripts they produced and used.
As they are currently dated by century in Derolez's Corpus catalogorum Belgii, I will first date Ter Duinen's manuscripts more precisely using the methodology developed by Erik Kwakkel as part of his VIDI Project "Turning over a New Leaf: Manuscript Innovation in the Twelfth-Century Renaissance". Closer dating permits more accurate assessment of the collection's growth, thus providing context within the developments of the Twelfth-Century Renaissance. I will show how paleographical and codicological features demonstrate Ter Duinen's monks' interaction with their books during the period studied. Using the abbey's manuscripts, I will address key questions about its scriptorium and library practices: for example, how was labour divided amongst scribes? How do the physical traits of their books relate to those observed elsewhere? What do changes in the manuscripts' physical features tell us about the changing nature of reading and text reception at Ter Duinen? Press marks, ownership inscriptions and bindings will be considered in the context of known twelfth-century library practices.
In addition to books produced at Ter Duinen, I will also analyze manuscripts acquired through purchase and donation. The growth and scope of the abbey's collection will be studied against the backdrop of the Twelfth-Century Renaissance to determine how the monks' intellectual interests changed, and the ways in which these changes relate to the intellectual milieu of their time. To assess this I will compare their collection with those of other foundations, as well as investigate the speed at which new texts were acquired and new reading technologies entered their corpus. In short, how and why did their textual interests change over the period in question, and in what physical forms did new texts reach them?
Lastly I will determine, where possible, the channels through which Ter Duinen acquired texts via evidence of donors or patrons, interaction with book trade in Bruges, and its borrowing and lending relationships with other houses, especially its daughter house Ter Doest (founded 1174/5). I will demonstrate how Ter Duinen participated in or benefited from its place within the Cistercian network of the Low Countries and beyond in terms of the transmission of the texts and new manuscript technologies that characterize books of the Twelfth-Century Renaissance.
Image: Bruges Public Library, MS 105, fol. 22r