Research project
The Százhalombatta Archaeological Expedition (SAX)
Százhalombatta-Földvar is a Bronze Age fortified tell settlement on the right bank of the river Danube, 30 km south of Budapest in Hungary. It is one of the best preserved temperate climate tells in Europe and well-known for the extraordinarily rich data it produces. Since 2014 Leiden students are welcomed on this international project, which proves to be a challenging but fascinating field school.
Contact
Excavations at the tell, known as the SAX project, are directed by Dr Magdolna Vicze, ( Matrica Museum), Prof Marie Louise Stig Sørensen (University of Cambridge) and Prof Joanna Sofaer (University of Southampton). The project is unique because of the detailed excavation strategy of a relatively large surface of the tell.
The first excavations at Szazhalombatta took place as early as 1963. A second campaign ran from 1989-1993. The current campaign started in 1998 and is ongoing. The tell is situated on top of a loess plateau that roughly reaches up to 150 m above sea-level. The site itself is only accessible from the northwest: access from other directions is prevented by the local relief, making the site defendable along the whole outline.
Coring has shown cultural deposits at the site are up to 6 meter deep. First occupied at the end of the Early Bronze Age it has seen continuous habitation to the end of the Middle Bronze Age. There is also some evidence of Late Bronze Age (Urnfield) occupation.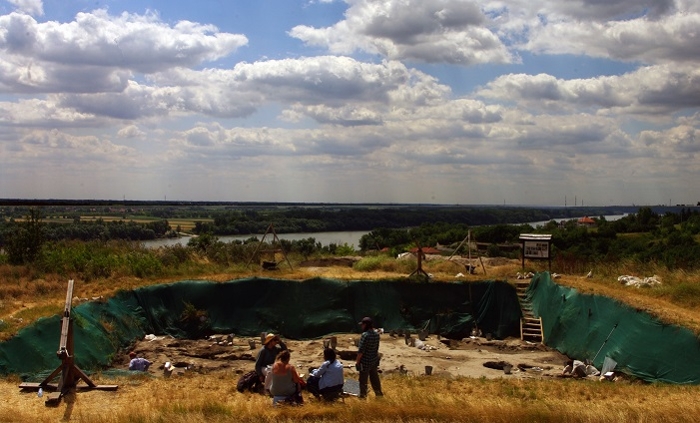 Finds from the site include pottery, daub, plaster, metalwork, moulds, loom weights, bone tools, antler objects, ground stone, lithics, amber, animal, and occasional human bones. Many of the Bronze Age houses were burnt. This has resulted in outstanding preservation of organic material including botanical remains such as thatch from house roofs and Bronze Age food like crab-apples, peas, beans and lentils. There is also worked wood and basketry.
This tell-site has played a key-role in two large EU funded project (Emergence of European Communities and Forging Identities; the mobility of culture in Bronze Age Europe) and continuous to produce substantial new data revealing a detailed and hitherto unknown picture of Bronze Age life from 2000-1400BC.
The site is an fieldwork and research training hub for many students ranging from first years to PhD's, and from many different backgrounds and countries. All students work together in a single trench, resulting in a stimulating international environment.
To find out more about this project please visit the website.