Fieldwork campaign
Ongoing excavations at Les Cottés (near Poitiers, France)
Les Cottés is one of the very few sites in western Europe with occupations in sequence by the very last Neandertals and the first anatomically modern humans.
Contact

Funding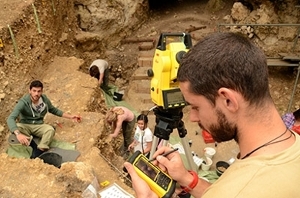 Les Cottés (Vienne, France) is located on the corridor between the Parisian basin and the Poitou in West-Central France. It is next to the Grand Pressigny area and to the Anglin valley, which are well-known for Paleolithic sites, including the rockart site of Roc-aux-Sorciers in Angle-sur-l'Anglin.
Impressions of the excavations at les Cottés.
Les Cottés is one of the rare sites, if not the only site, which contains a sequence of Late Mousterian, Evolved Chatelperronian, Protoaurignacian and Early Aurignacian. The late Mousterian and Chatelperronian were produced by the last Neandertals, wheras Protoaurignacian and Early Aurignacian are attributed to the earliest anatomically modern humans in western Europe.
Evolved Chatelperronian is a variant of the Chatelperronian, which was first defined at Les Cottés by L. Pradel in the 1950s.
It corresponds to a final stage of the Chatelperronian, is characterized by the Les Cottés point, and could therefore be evidence of the final Neandertals' behavior in France. Protoaurignacian and Early Aurignacian with split-base bone points are also well preserved at the site. Anatomically modern human remains were already found in the Early Aurignacian layer during the first excavation at the site by R. de Rochebrune in 1881.
Our goal at this site is to better understand the behavior of the last Neandertals and the first anatomically modern humans in Western Europe and to evaluate the nature and the amount of interaction between these two populations just before the demise of Neandertals.
For us, it is a unique opportunity to:
Document the site formation processes to better understand the archaeological context of the site's important cultural sequence,
Document aspects of the Evolved Chatelperronian, proto-Aurignacian and Early Aurignacian behavioral repertoire at a single location,
Date, using several different methods, the Evolved Chatelperronian, proto-Aurignacian and the Early Aurignacian.
Volunteers
Les Cottés field-work is eligible for Leiden BA and MA internship and is open to students from other universities.
In 2019, we'll have a study season and in turn we will not excavate. If you are interested in joining future excavation campaigns, we recommend you visit this webpage again in January 2020.
Papers
More than 15 papers about the results of the excavation at Les Cottés have been published in peer-reviewed international journals including Science, Journal of Human Evolution, Journal of Archaeological Sciences, Advances in Archaeological practice, Quaternary International, Rapid Communication in Mass Spectrometry, and the Bulletin de la Société Préhistorique française.
Slon et al paper reporting the first extraction of aDNA from the sediment at five sites including Les Cottés has been commented upon in more than 100 news outlet and featured as one of the top 5 human evolution discoveries in 2017.
Pdf available on https://leidenuniv.academia.edu/marieSoressi