Dissertation
Shy parent, shy child?
Delineating psychophysiological endophenotypes of social anxiety disorder
Author

Anita Harrewijn

Date

18 January 2018

Links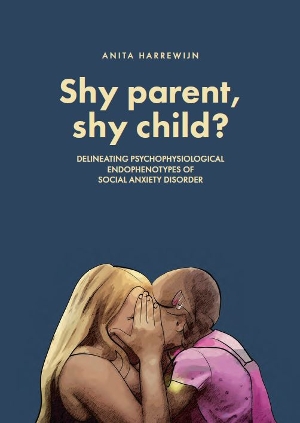 The goal of this dissertation was to delineate psychophysiological endophenotypes of social
anxiety disorder (SAD). Studying endophenotypes could be seen as a first step in unraveling
genetic mechanisms underlying psychiatric disorders, because endophenotypes are supposedly influenced by less genes than complex psychiatric disorders (Cannon & Keller, 2006; Glahn et al., 2007). In addition, endophenotypes could yield better understanding of the biological mechanisms underlying SAD (Glahn et al., 2007; Iacono et al., 2016; Miller & Rockstroh, 2013). Our Leiden Family Lab study on SAD focused on two criteria for endophenotypes: co-segregation with SAD within families and heritability. Patients with SAD participated with their partner and children, as well as their siblings with partner and children.
Delta-beta correlation during anticipation of a stressful social situation, and N1 and P3 amplitude in the social judgment paradigm are candidate endophenotypes of SAD. Future research should continue this promising line of endophenotype research in three different directions. First, it should be investigated how these endophenotypes maintain SAD by studying their influence on later processing stages and subsequent behavior. Second, it should be studied which factors influence the development of SAD in persons with this genetic vulnerability and how endophenotypes develop over time. Third, it should be investigated how the endophenotypes could be best used in treatment, for example by giving more insight in the patho-etiology of SAD, and by improving early detection and preventive interventions.