Dissertation
Navigating the World of Emotions
Social Information Processing in Children with and without Hearing Loss
Author

Yung-Ting Tsou

Date

11 November 2020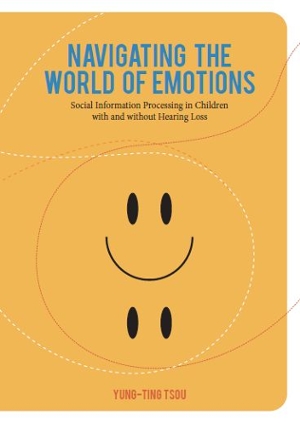 Summary
In a social environment composed mostly of people with typical hearing, deaf or hard-of-hearing (DHH) children experience social interactions differently from their typically hearing peers, which could guide them towards different patterns for processing other people's emotions. Within her PhD research, Yung-Ting Tsou aimed to unravel whether hearing status affects how children encode, interpret, and react to others' emotions in a social context, and whether their responses are associated with psychosocial functioning, using a variety of measures that included eye tracking, pupillometry, behavioral tasks, parent reports, and longitudinal follow-up.
The studies showed that DHH children's skills for perceiving others' basic emotions were on par with their typically hearing peers. Improved emotional functioning was associated with improved psychosocial functioning to a similar degree in DHH and typically hearing children alike. Yet, DHH children still faced difficulties when they had to process an emotion with adequate knowledge about social rules and causes of emotions. Moreover, DHH children used a visual cue-based encoding strategy to compensate for ambiguous or unavailable information in social situations, and recruited more cognitive resources to process unfamiliar emotional expressions. The findings underscore the need to look beyond accuracy and into possible qualitative differences between typical and atypical development. These individual differences reflect compensatory strategies to support daily living, or signal a need for support in a certain domain.
This thesis highlights the importance of a more inclusive, accessible environment, where children — all children — can easily participate in social interactions and therefore acquire the social-emotional knowledge necessary for facilitating future interactions. When DHH children and other children who face barriers to communication are given as many opportunities for meaningful social interaction as typically developing children, they will have the opportunity to acquire commensurate knowledge naturally during the process. Hopefully, this thesis will inspire other like-minded researchers. We envision more studies to further our understanding of children's challenges and potential for successfully navigating their social world.