Book
Environmental Humanities in the New Himalayas: Symbiotic Indigeneity, Commoning, Sustainability
Environmental Humanities in the New Himalayas: Symbiotic Indigeneity, Commoning, Sustainability showcases how the eco-geological creativity of the earth is integrally woven into the landforms, cultures, and cosmovisions of modern Himalayan communities. Unique in scope, this book features case studies from Bhutan, Assam, Sikkim, Tibet, Nepal, Pakistan, and Sino-Indian borderlands, many of which are documented by authors from indigenous Himalayan communities. It explores three environmental characteristics of modern Himalayas: the anthropogenic, the indigenous, and the animist.
Author

Dan Smyer Yü, Erik de Maaker

Date

17 May 2021

Links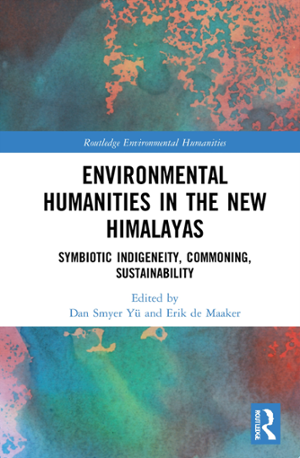 Focusing on the sentient relations of human-, animal-, and spirit-worlds with the earth in different parts of the Himalayas, the authors present the complex meanings of indigeneity, commoning and sustainability in the Anthropocene. In doing so, they show the vital role that indigenous stories and perspectives play in building new regional and planetary environmental ethics for a sustainable future. Drawing on a wide range of expert contributions from the natural sciences, social sciences, and humanist disciplines, this book will be of great interest to students and scholars of environmental humanities, religion and ecology, indigenous knowledge and sustainable development more broadly.
The book can be purchased through the website of Routledge.
Biography
Dan Smyer Yü is Kuige Professor of Ethnology in the School of Ethnology and Sociology, Yunnan University Kunming, China.
Erik de Maaker is Assistant Professor in the Department of Cultural Anthropology and Development Sociology, Leiden University, The Netherlands.