Website | Online exhibition
Art of Captivity
The online exhibition 'Art of Captivity' corresponds with the publication of anthropologists Kevin Lewis O'Neill and Benjamin Fogarty-Art Valenzuela's book the Art ofCaptivity (University of Toronto Press 2020). This exhibit, photographed in the open air but only viewable digitally, represents a creative experiment. Images from the streets of Guatemala City, So Paulo, and Toronto are featured.
Author

Benjamin Fogarty-Valenzuela

Date

01 September 2021

Links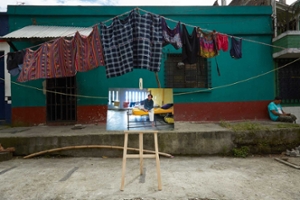 Visit the online exhibiton Art of Captivity.
Book
This bilingual Spanish-English photography book explores Guatemala City's Pentecostal drug rehabilitation centres and how those held inside (often against their will) turn to art-making with found objects and unconventional supplies to create a sense of meaning and purpose.