Website
European Border Communities
European Border Communities provides an overview of interdisciplinary research on the dynamics, challenges and effects of cross border mobilities and the management thereof.
Author

Maartje van der Woude

Date

21 September 2017

Links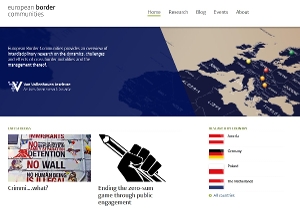 The European Border Communities presents information on Prof.dr.mr. Maartje van der Woude's NWO VIDI project "Getting to the Core of Crimmigration" (2017-2021) as well as related research projects to an international target group of scholars and policymakers. The research is carried out by researchers of the Van Vollenhoven Institute for Law, Government & Society, together with affiliated international scholars. A section with thematic blogs provides room for contributions from partners and guest authors.