Dissertation
Value Congruence in a Multinational Corporation
On 29 June 2017, Doris Dull-Zessner defended her PhD dissertation "Value Congruence in a Multinational Corporation". The supervisors are Professor J.A.A. Adriaanse and Professor J.I. van der Rest.
Author

Doris Dull-Zessner

Date

29 June 2017

Links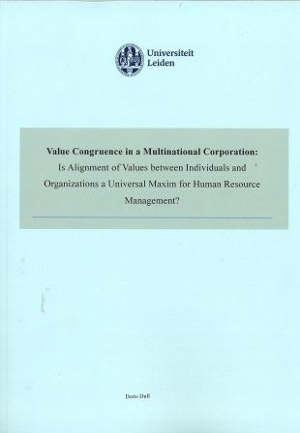 Working as Director Human Resources at a multinational corporation Doris Dull- Zessner questioned that the alignment between individual values and organizational values in todays' business reality still has a positive impact on employee behaviour and attitude. Behaviour and attitude from a practical point of view is when people are mentally healthy, work hard, are committed to supporting business goals and objectives and are productive.
Todays' business reality can be described where organizations operating on the international market realised the relevance of having effective HRM systems with direct implications for team members that represent various cultural backgrounds.
Having this in mind and equipped with the knowledge from the literature review a long journey began to investigate a) whether value congruence or individual values, as a whole, are positively related to work engagement, affective commitment and productivity but negatively with emotional exhaustion, b) whether there is a different effect on emotional exhaustion, work engagement, affective commitment and productivity, by grouping values into dimensions c) the role of culture in the relationship, d) the moderating role of individual values dimensional and multidimensional.
Different value concepts were considered that are relevant for organizations but also the meaning of culture.