Dissertation
Uncontrollable: Data subject rights and the data- driven economy
On 7 February 2019, Helena Ursic-Vrabec defended her thesis 'Uncontrollable: Data subject rights and the data- driven economy'. The doctoral research was supervised by Prof. dr. S. van der Hof.
Author

Helena Ursic-Vrabec

Date

07 February 2019

Links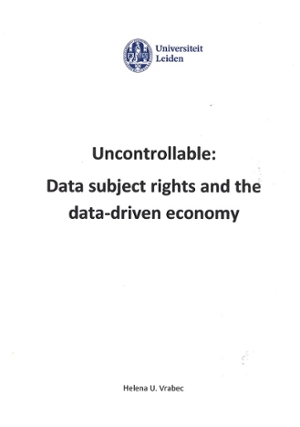 The focus of the research are data subject rights – a set of data protection provisions that directly linked to the concept of individual control. In 2018, the European Parliament adopted the Regulation on the protection of natural persons with regard to the processing of personal data and on the free movement of such data (GDPR). The objective of the new law was to strengthen data protection and adapt it to the changed circumstances in the globalised and interconnected world. The amendments also introduced some substantial improvements in the section on data subject rights. However, in the light of the fast-changing economic and technological environment, the researcher noticed a gap between data subject rights when understood as law in the books and when applied in practice. By using the analysis of legal sources and academic literature, the thesis explores whether the data subject rights under the GDPR are effective in the data-driven economy, and if not, what are possible solutions to overcome the shortcomings.
The assessment confirms that the law in books appears promising but fails in action. The thesis suggests three (self-)regulatory approaches to enhance individual control over personal data beyond the system of data subject rights: a) introducing new technological solutions that promote values such as privacy, fairness, and control b) complementing data subject rights with the mechanisms from the duty side of data protection law such as privacy by design and c) leveraging on the overlaps between data protection and other legal areas such as consumer protection and competition law.