Dissertation
The Regime for International Air Carrier Liability
On 17 November 2021, Cyril-Igor Grigorieff defended the thesis 'The Regime for International Air Carrier Liability'. The doctoral research was supervised by Prof. P. Mendes de Leon and Prof. V. Correia (University Paris Saclay).
Author

Cyril-Igor Grigorieff

Date

17 November 2021

Links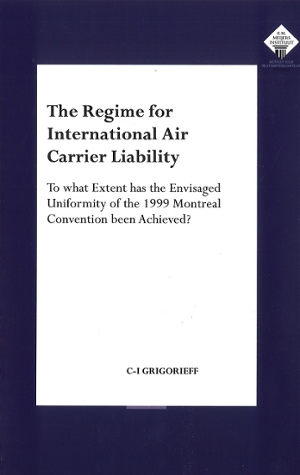 In order to answer the research question, the dissertation is divided into four parts. Part I examines the ratio legis of the 1999 Montreal Convention to determine to what extent uniformity is a principal aim of the convention that must be pursued in its application. Part II analyses the factors which already existed at the time of the signing and prevented its uniform application. Part III scrutinizes the fragmentation factors that only appeared during the lifespan of the convention. Part IV makes different suggestions to improve the uniform application of the convention and to reduce its fragmentation. The author concludes the research with a list of not less than 10 recommendations to protect the aim of uniformity of the international air carrier liability regime established by the convention.