Book
Law and Artificial Intelligence, Regulating AI and Applying AI in Legal Practice
From deepfakes and disinformation to killer robots, surgical robots and AI lawmaking: AI (Artificial Intelligence) is changing our world. That raises the question whether this requires some form of regulation. At eLaw, the Center for Law and Digital Technologies at Leiden University, prof. Bart Custers and dr. Eduard Fosch-Villaronga edited a new book on Law and AI. This large volume (27 chapters, 600 pages) extensively covers law and AI from a multidisciplinary perspective.
Author

Bart Custers, Eduard Fosch-Villaronga

Date

29 August 2022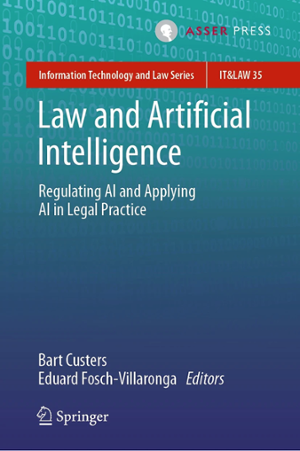 The book Law and Artificial Intelligence: Regulating AI and Applying AI in Legal Practice was published in the Information Technology and Law Series of TMC Asser Press and Springer, provides an in-depth overview of what is currently happening in the field of Law and AI. Contributors from different countries and different academic backgrounds discuss how AI could and should be regulated in the areas of public law, including constitutional law, human rights law, criminal law, and tax law, as well as areas of private law, including liability law, competition law, and consumer law. Also chapters that address the use of AI in legal practice are included.
The idea for this book originated in the SAILS Project, one of Leiden University's interdisciplinary research programs. In the SAILS project, technology experts like data scientists, computer scientists, and mathematicians work together with psychologists, linguists, medical doctors, archeologists, lawyers, and philosophers. This book represents an example of such interdisciplinarity since scholars affiliated with the SAILS project wrote many chapters of the book.