Dissertation
Collective violence offenders and offending. The role of individual characteristics
On 29 September 2020, Tom van Ham defended his thesis 'Collective violence offenders and offending. The role of individual characteristics'. The doctoral research was supervised by Prof. A.A.J. Blokland, Prof. O.M.J. Adang (RUG) and Prof. Th.A.H. Doreleijers (VUMC).
Author

Tom van Ham

Date

29 September 2020

Links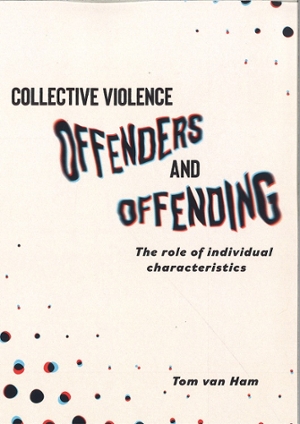 Collective violence offenders usually do not have a criminal record. In earlier research, the emphasis in explaining collective violence has been on the relationships between the groups involved in collective. This thesis argues that individual characteristics cannot be ignored.
A part of collective violence offenders (approximately 10 percent) appear to have come into contact with the police from an early age on due to violence, committed both alone and in groups. Moreover, certain psychological characteristics - such as problems with impulse control, ADHD and aggression regulation problems - are more common in this group than among other collective violence offenders. In short: for some of involved in collective violence, taking part seems to be prompted not only by the situation but also by individual characteristics which manifest themselves in such situations. To date, the role of individual characteristics has only been examined to a limited extent, based on the idea that this does not do justice to the context in which collective violence manifests itself.
The findings of this research argue for nuance in the scientific debate. When explaining collective violence, attention should be paid to the mutual relationships between the groups involved, the applicable "values" within specific offender groups (such as hooligans) and individual characteristics.