Dissertation
Scrum in secondary chemistry education
This thesis explored the question whether Scrum methodology might function as an appropriate scaffold to enhance students' learning and to support teachers in context-based secondary chemistry education.
Author

Hans Vogelzang

Date

10 November 2020

Links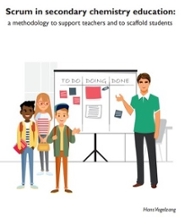 Context-based approaches have been designed and implemented to address several problems, including passive involvement of students and perceived irrelevance of chemistry.Scrum methodology is a project management framework which consists of specific ceremonies and artefacts to monitor the workflow of complex projects in businesses and industries.The Scrum characteristics were adjusted to the specific situation of a context-based learning environment.

Five studies were conducted to reveal its impact on students' learning as well as on teachers' teaching. The results show that students participating in Scrum classes outperformed students participating in the control condition with regard to both cognitive and metacognitive learning outcomes. Moreover, the impact of Scrum methodology on students' learning increased when teachers were able to apply a rich repertoire of didactical and pedagogical expertise, indicating that the role of a teacher remains invaluable.

The findings provide evidence that the implementation of a project-management framework in an educational context scaffolds and strengthens students in their learning process, which in turn is beneficial for learning outcomes.