Dissertation
Intermediate assessment in higher education
In higher education intermediate assessment is used in different ways. In her PhD research Indira Day shows that lecturers should be able to continue to have the freedom to use various test forms, because not one type of test is optimal.
Author

Indira Day

Date

28 June 2018

Links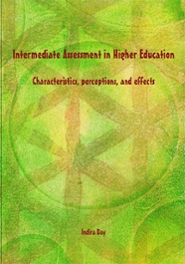 Intermediate assessement is defined as 'all forms of testing that students complete during the course'. There is already a lot of evidence that intermediate assessment works to promote student performance. However, little is known about whether certain features of intermediate assessment (such as type, calculation, and feedback) can affect performance.
Not one optimal way of intermediate assessment exists, but there are different forms of the four test characteristics: feedback, obligation, reward, assessor. All these characteristics have a positive influence on grades.
Teachers and students generally have a positive view of intermediate assessment, but have different reasons for this. Students want to use the test to pass their exam, while teachers want to use the test to be able to test something different than the exam. Teachers mainly use intermediate assessment with the aim of supporting students in their learning process. They would often want to go further if they were not stopped by practical issues such as work pressure. Furthermore, the graduation mark for students appears to be the strongest predictor for their grades in the first year, regardless of the intermediate assessment form.
The research results show that both teachers and students have a positive view of intermediate assessment.