Book
Two new volumes 'Dutch Sources on South Asia'
Volume 4 and 5 of the Leiden series 'Dutch Sources on South Asia' are now available, written by Markus Vink (vol.4) and Carolien Stolte (vol.5).
Author

Markus Vinks and Carolien Stolte

Date

01 November 2012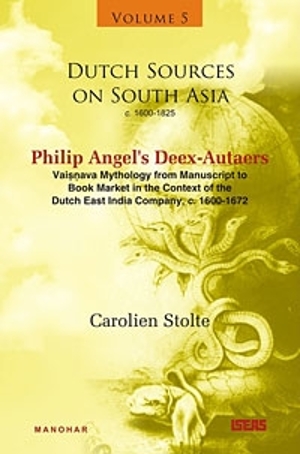 Dutch Sources on South Asia, c. 1600-1825 is a series dedicated to sources produced by people connected to the Dutch East India Company (VOC) and its successors. The main objective of this series is to make these rich and rare sources accessible to a wider English-reading public. The first three volumes offered detailed research guides to archival collections as well as other published and unpublished materials in the Netherlands, Europe, South Asia, Indonesia and elsewhere. In the two new volumes, unpublished texts with relevance to particular South Asian themes are transcribed and translated. In these cases, each volume provides a critical edition of the original Dutch texts, accompanied by an introduction, a full English translation, a bibliography, an index and other research aids. The series is edited by Lennart Bes, Jos Gommans, Gijs Kruijtzer and Alicia Schrikker, and published by Manohar in New Delhi.
Vol. 4 'Mission to Madurai', by Markus Vink
Court journeys represent the most spectacular sub-genre in Western travel literature and the history of cross-cultural interaction. Preceded by an incisive introduction on images and ideologies of Dutch-South Asian contact, these are the hitherto unpublished accounts and related documents of three encounters between representatives of the Dutch East India Company and the state of Madurai, one of the 'great southern Nayakas' and successor states of the Vijayanagra empire, in the second half of the seventeenth century. A shared interest in trade and at times converging political objectives formed the unstable foundations for a complex courtship fraught with tensions between two ill-suited partners, a mixture of conflict and coexistence typical of the 'age of contained conflict'.
Vol. 5 'Philip Angel's Deex-Autaers', by Carolien Stolte
In 1658, a Dutch East India Company merchant by the name of Philip Angel presented a manuscript to Company Director Carel Hartsinck. It was intended to get into Hartsinck's good books: Angel had been recalled to the VOC-headquarters at Batavia in disgrace for engaging in private trade and was to account for his actions in a hearing. Back home in Holland, Philip Angel had been a painter and a published author. The manuscript recounts the well-known Puranic myths of the avataras of Vishnu. It conformed to all the contemporary conventions of an 'exotic' gift manuscript and reflects his artistic skills. But Angel offered no details of how he acquired the manuscript, in what language, or who assisted him. This requires an investigation into the practices of information-gathering on Indian religious texts by important players of the time, ranging from Portuguese Jesuits to literati at the Mughal court. Finally, without acknowledgment of its author, Angel's manuscript ended up on the commercial European book market where it gained a conspicuous place within the corpus of seventeenth-century Dutch literature on the East. This volume consists of two parts. Part one traces the history of the manuscript and its maker, as well as the larger historical context in which it was assembled. The second part provides a transcription of the manuscript and an annotated translation.