Book
The Revolution That Failed: Reconstruction in Natchitoches
The chaotic years after the Civil War are often seen as a time of uniquely American idealism—a revolutionary attempt to rebuild the nation that paved the way for the civil rights movement of the twentieth century. But Adam Fairclough rejects this prevailing view, challenging prominent historians such as Eric Foner and James McPherson. He argues that Reconstruction was, quite simply, a disaster and that the civil rights movement triumphed despite it, not because of it.
Author

Adam Fairclough

Date

13 March 2018

Links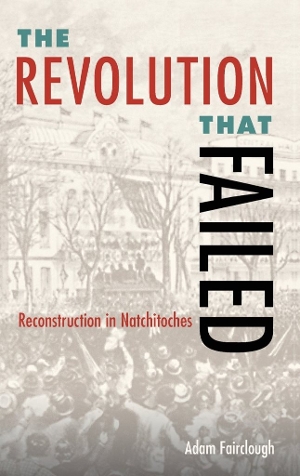 Fairclough takes readers to Natchitoches, Louisiana, a majority-black parish deep in the cotton South. Home to a vibrant Republican Party led by former slaves, ex-Confederates, and free people of color, the parish was a bastion of Republican power and the ideal place for Reconstruction to have worked. Yet although it didn't experience the extremes of violence that afflicted the surrounding region, Natchitoches fell prey to Democratic intimidation. Its Republican leaders were eventually driven out of the parish.

Reconstruction failed, Fairclough argues, because the federal government lacked the means and the will to enforce the rights it had created. Congress had given the Republicans of the South and the Freedmen's Bureau an impossible task—to create a new democratic order based on racial equality in a lawless region tortured by deep-rooted racial conflict. Moving expertly between local conditions and wider developments in Washington, The Revolution That Failed offers a sobering perspective on how Reconstruction affected African American citizens and what its long-term repercussions were for the nation.

Adam Fairclough is professor emeritus of American history at Leiden University. He is the author of several books, including A Class of Their Own: Black Teachers in the Segregated South.