Publication
Current Visions of TAML2 (Tense, Aspect and Modality in Second Languages)
This is a Special Issue of the peer-reviewed 'Dutch Journal of Applied Linguistics (DuJAL)', which focuses on promoting Dutch and Belgian work in applied linguistics among an international audience, but also welcomes contributions from other countries.
Author

Paz González and Tim Diaubalick

Date

11 March 2020

Links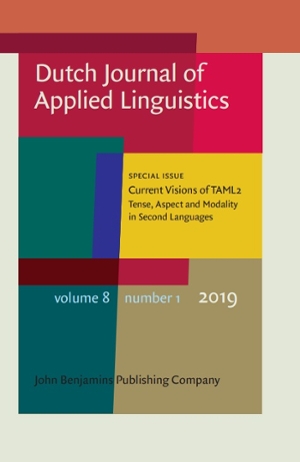 The Dutch Journal of Applied Linguistics caters for both the academic society in the field and for language and communication experts working in other contexts, such as institutions involved in language policy, teacher training, curriculum development, assessment, and educational and communication consultancy.
Current Visions of TAML2
As it states in the Editorial by Paz González, Tim Diaubalick, and Nivja de Jong, this special issue comprises a selection of studies on the acquisition of tense, aspect and modality (TAM) in second languages (L2) which aim to gain insight into the acquiring and learning of TAM representations, as this is one of the most challenging tasks for second language learners (Comajoan, 2014).
The seven articles are based on talks presented at the 3rd edition of TAML2 (Tense, Aspect and Modality in a Second Language) in Leiden, The Netherlands, which brought together researchers working on different aspects of the acquisition, learning and teaching of TAM in second languages.
The papers cover research on:
aspectual, temporal and modal representations in an L2
pedagogical implications of TAML2 research findings
methodological issues
contributions to theory building
These research topics are a reflection of a widely recognized need for an updated knowledge base and for innovative methodological tools in the study of temporal, aspectual and modal representations in a second language (see McManus, Vanek, Leclercq, & Roberts, 2017 and Salaberry, 2018).