Dissertation
Possessives in Tongugbe, a dialect of Ewe
On February 28th, Promise Dodzi Kpoglu succesfully defended his doctoral thesis and graduated. The Leiden University Centre for Linguistics congratulates Dodzi on this great result.
Author

Promise Dodzi Kpoglu

Date

28 February 2019

Links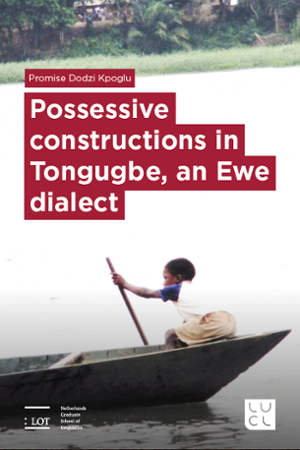 Abstract
This dissertation concerns the description of possessive constructions in Tongugbe, one of the many dialects of the Ewe language, which is spoken in south-eastern Ghana, along the Volta River. It presents a detailed description of the constructions; and explores the relationship that exists between clausal possessive constructions and locative and existential constructions. In addition to this, the work presents a first outline grammar of Tongugbe. The grammar presents notably preliminary findings on the duration contrast in tones of Tongugbe and a rich demonstrative paradigm. The possessive constructions can be grouped into attributive, predicative and external possessor constructions. It is shown that the structural configurations of attributive possessive constructions are functionally motivated. It is also demonstrated that structural variations in predicative possessive and external possessor constructions correspond to differences in meaning. Finally, it is argued that, synchronically, clausal possessive constructions and locative and existential constructions are not reducible to a single structure. The view supported here then is that each construction is a form-meaning pair.