Book
Nubian Voices II
New Texts and Studies on Christian Nubian Culture
Author

Edited by Adam Łajtar, Grezegorz Ochała and Jacques van der Vliet

Date

05 February 2016

Links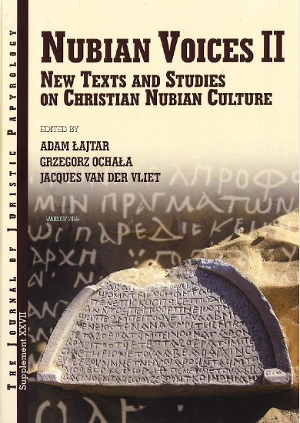 This second volume of Nubian Voices is the sequel to Nubian Voices: Studies in Christian Nubian Culture, published in 2011. As its predecessor, it focuses on written sources for medieval Christian Nubia, in the period between roughly AD 500 and 1500. It contains sixteen papers that comprise both editions of new texts and studies based on written sources. The new texts are in Greek, Coptic, Old Nubian and Syriac and hail from all over Nubia. The studies section covers subjects as diverse as medieval lists of Nubian episcopal sees and Old Nubian syntax. Together with its predecessor, the present volume marks a surge of interest in medieval Nubia, which gradually takes its place in the mainstream of Christian Oriental studies.
Readership: historians, church historians, theologians, epigraphists, linguists and cultural anthropologists with an interest in African, Oriental or Byzantine studies.
Hardback, 334 pages, texts in English and (one article) French.