Book
Moving Romans. Migration to Rome in the Principate
Moving Romans offers an analysis of Roman migration by applying general insights, models and theories from the field of migration history. It provides a coherent framework for the study of Roman migration on the basis of a detailed study of migration to the city of Rome in the first two centuries A.D.
Author

Laurens E. Tacoma

Date

02 June 2016

Links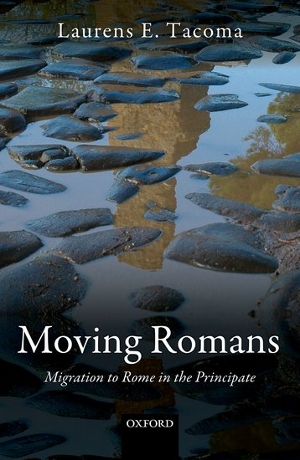 While the importance of migration in contemporary society is universally acknowledged, historical analyses of migration put contemporary issues into perspective. Migration is a phenomenon of all times, but it can take many different forms. The Roman case is of real interest as it presents a situation in which the volume of migration was high, and the migrants in question formed a mixture of voluntary migrants, slaves, and soldiers.

Advocating an approach in which voluntary migration is studied together with the forced migration of slaves and the state-organised migration of soldiers, it discusses the nature of institutional responses to migration, arguing that state controls focused mainly on status preservation rather than on the movement of people.
It demonstrates that Roman family structure strongly favoured the migration of young unmarried males.

Tacoma argues that in the case of Rome, two different types of the so-called urban graveyard theory, which predicts that cities absorbed large streams of migrants, apply simultaneously. He shows that the labour market which migrants entered was relatively open to outsiders, yet also rather crowded, and that although ethnic community formation could occur, it was hardly the dominant mode by which migrants found their way into Rome because social and economic ties often overrode ethnic ones.

The book shows that migration impinges on social relations, on the Roman family, on demography, on labour relations, and on cultural interaction, and thus deserves to be placed high on the research agenda of ancient historians.
Purchase this book at the Athenaeum Boekhandel webshop.