Book
Legibility in the Age of Signs and Machines
Legibility in the Age of Signs and Machines offers a compelling reflection on what the notion of legibility entails in a machinic world in which any form of cultural expression – from literary texts, films, artworks and museum exhibits to archives, laws, computer programs and algorithms – necessarily partakes in ever-more complex processes of (mass) mediation.
Author

Editors: Pepita Hesselberth, Janna Houwen, Esther Peeren and Ruby de Vos

Date

09 January 2019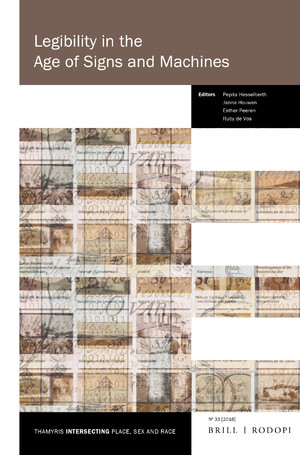 Divided over four clusters focusing on desire, justice, machine and heritage, the chapters in the volume explore what makes something legible or illegible to whom or, indeed, what; the kinds of reading, processing or navigating such il/legibility facilitates or forecloses; and the role critical (media) theory, literary studies and the Humanities in general can play in tackling these and related issues.

Contributors: Ernst van Alphen, Anke Bosma, Siebe Bluijs, Sean Cubitt, Colin Davis, Katrine Dirckinck-Holmfeld, David Gauthier, Giovanna Fossati, Isabel Capeloa Gil, Pepita Hesselberth, Yasco Horsman, Janna Houwen, Looi van Kessel, Esther Peeren, Seth Rogoff, Roxana Sarion, Frederik Tygstrup, Inge van de Ven, Ruby de Vos, Peter Verstraten, Tessa de Zeeuw.
Publication Date: 1 November 2018
ISBN: 978-90-04-37617-5
DOI: https://doi.org/10.1163/9789004376175