Book
Globalising Migration History. The Eurasian Experience (16th-21st centuries)
This volume edited by Jan Lucassen and Leo Lucassen aims to quantify and qualify cross-cultural global migrations and was published in the series 'Studies in Global Migration History'.
Author

Leo Lucassen and Jan Lucassen

Date

26 March 2014

Links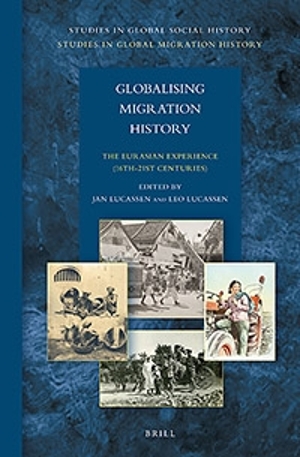 Globalizing Migration History is a major step forward in comparative global migration history. Looking at the period 1500-2000 it presents a new universal method to quantify and qualify cross-cultural migrations, which makes it possible to detect regional trends and explain differences in migration patterns across the globe in the last half millennium. The contributions in this volume, written by specialists on Russia, China, Japan, India, Indonesia and South East Asia, show that such a method offers a fruitful starting point for rigorous comparisons. Furthermore the volume is an explicit invitation to other (economic, cultural, social and political) historians to include migration more explicitly and systematically in their analyses, and thus reac a deeper understanding of the impact of cross-cultural migrations on social change.

Contributors are: Sunil Amrith, Ulbe Bosma, Gijs Kessler, Jelle van Lottum, Jan Lucassen, Leo Lucassen, Mireille Mazard, Adam McKeown, Atsushi Ota, Vijaya Ramaswamy,Osamu Saito, Jianfa Shen, Ryuto Shimada, Willard Sunderland, and Yuki Umeno.
Jan Lucassen, Leo Lucassen (eds.) Globalising Migration History. The Eurasian Experience(16th-21st Centuries) (Leiden & Boston: Brill Puplishers, 2014)