Book
Early Modern Prophecies in Transnational, National and Regional Contexts
In this 3-volume set of primary sources, the authors bring together a wide range of vital sources for the study of prophecy in the early modern world. This meticulously edited collection includes rare material and fascinating manuscripts published in English for the first time.
Author

Lionel Laborie and Ariel Hessayon

Date

14 December 2020

Links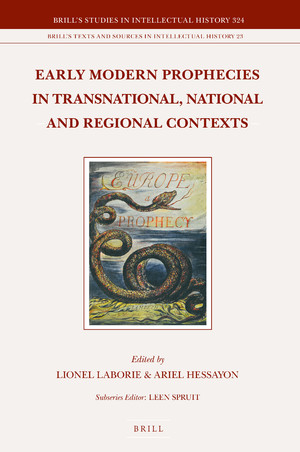 The three volumes are organised geographically, each with its own introduction by a specialist. Together with their respective contributors, they show how prophecies circulated widely throughout this period at all levels of society. Indeed, they often emerged in times of crisis and were delivered as warnings as well as signals of hope. Moreover, they were constantly adapted and translated to suit ever changing contexts – including those for which they had not been originally intended.
Contributors include: Viktoria Franke, Monika Frohnapfel, William Gibson, Mayte Green, Marios Hatzopoulos, Jacqueline Hermann, Ariel Hessayon, Warren Johnston, Lionel Laborie, Adelisa Malena, Andreas Pečar, Martin Pjecha, Michael Riordan, Luís Filipe Silvério Lima, Damien Tricoire, Leslie Tuttle, and Kristine Wirts.