Dissertation
Dutch Grammar in Japanese Words
On the 12th of September, Lorenzo Nespoli successfully defended a doctoral thesis. The Leiden University Centre for Linguistics congratulates Lorenzo on this achievement!
Author

Lorenzo Nespoli

Date

12 September 2023

Links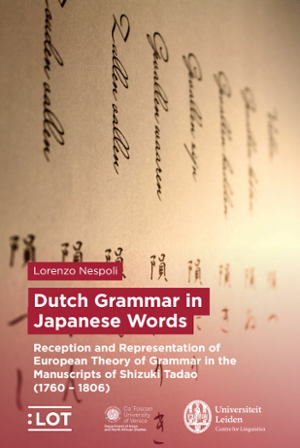 European science, geography, and medicine were introduced in Early Modern Japan through Dutch. In order to pursue these studies, Japanese scholars of Dutch needed to gain proficient command of the Dutch language. It is often argued that the Japanese scholars' knowledge of Dutch was not particularly advanced, as they were mostly limited by their broken understanding of the contents of Dutch grammatical handbooks and dictionaries. The present book questions and investigates this claim with the goal of understanding the actual role played by Dutch sources in the learning of Dutch grammar. This is done by taking the manuscripts compiled by Shizuki Tadao (1760 – 1806) as a case study.
Shizuki can be considered as the first Japanese who studied the European theory of grammar. His representation of it is highly relevant within the history of linguistic thought. In the analysis of Shizuki's manuscripts, this book concentrates on the representation of the categories of the parts of speech and of morphosyntactic phenomena related to verbs. While describing Dutch grammar, Shizuki often mentions other Japanese authors, like Ogyū Sorai and Motoori Norinaga. This book analyzes their works in relation to Shizuki's manuscripts and his Dutch sources, contextualizing Shizuki's theories and demonstrating their relationship to his sources. The book argues in favor of a new positioning of Shizuki and the other rangakusha within the scholarly environment of Early Modern Japan.