Dissertation
A Grammatical Description of Schiwiar
On the 29th of June, Martin Kohlberger successfully defended a doctoral thesis and graduated. The Leiden University Centre for Linguistics congratulates Martin on this achievement!
Author

Martin Kohlberger

Date

29 June 2020

Links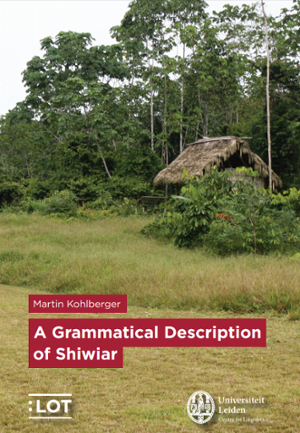 Abstract
Shiwiar is a language spoken by around 1,200 people in the Amazonian lowlands of eastern Ecuador and northern Peru. It belongs to the Chicham (Jivaroan) language family. This work is the first grammatical description of the language, and it is based on a 30-hour audio-visual corpus of natural speech, collected over 12 months of fieldwork between 2011 and 2016 in the Pastaza province of Ecuador.
This dissertation is an analysis of Shiwiar phonetics, phonology, morphology, syntax and information structure. Some of the most salient and typologically interesting phenomena described include the high degree of phonetic and phonological variability in the speech community, a rare type of differential object marking, a rich paradigm of pronominal indexing on the verb, and the extensive use of clause chains as a discursive and clause combining device. This work also engages with the areal and typological literature to shed light on their diachronic development. From a methodological perspective, special emphasis is given throughout this dissertation to the value of using natural language data for linguistic analysis, and the importance of committing to a high standard of transparency and resolvability with regards to the data.