Book
New book: Theory and Practice of Public Sector Reform
The book offers different theoretical perspectives to help examine the process of public sector reform. In addition it gives an overview of the major trends in the core areas of the functioning of the public sector.
Author

Steven Van de Walle, Sandra Groeneveld (Eds.)

Date

11 July 2016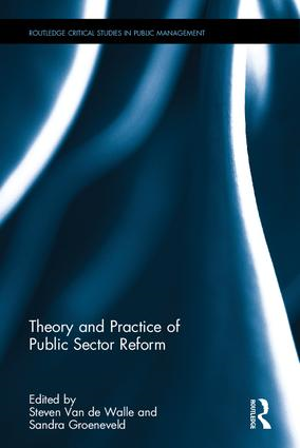 The book first addresses a number of conceptual and theoretical perspectives on public sector reform. Secondly it addresses major changes in specific areas of public sectors - 'objects of reform'. Part three focuses on the tudy of public sector reform.
The book was edited by Leiden Professor of Public Management Sandra Groeneveld and her KU Leuven/ Erasmus University Rotterdam colleague Professor Steven Van de Walle.
Professor Groeneveld contributed together with Leiden Institute of Public Administration colleagues dr. Van der Voet and dr. Kuipers 'A Change Management Perspective' next to her editorship and several other contributions to the book.
Website of the publisher: Routledge