Publication
Policy Effectiveness through Configurational and Mechanistic Lenses: Lessons for Concept Development
Valérie Pattyn, Assistant Professor at Leiden University, researched "why and how" a policy can make a difference together with four other authors.
Author

Valérie Pattyn, Priscilla Álamos-Concha, Bart Cambré, Benoît Rihoux & Benjamin Schalembier

Date

26 June 2020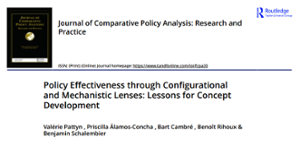 The aim of the article is to build up a concept-informed research design to answer "why and how" a policy can make a difference. It demonstrates the potential and challenges of an innovative multimethod approach, which combines a configurational and mechanistic view to policy effectiveness. The article hereto draws on experiences in applying Qualitative Comparative Analysis and Process Tracing in one single evaluation. The study calls for a rigorous treatment of concepts, especially to avoid the risk of mechanistic heterogeneity. It unpacks important lessons in concept formation and operationalization, so as to ensure concept validity and to make strong causal inferences.
Shedding light on the "whys" and "hows" behind policy success or failure is quintessential for policy learning. At present, though, evaluation research that addresses such questions is not yet very common. Accordingly, there are not many effectiveness studies applying a configurational approach to causality, such as Qualitative Comparative Analysis (QCA), or that have a mechanistic understanding of causality, such as Process Tracing (PT). And to the best of our knowledge, studies in which the two questions are combined in one single evaluation ("why and how") are almost non-existent. This is unfortunate, given the promises of such a multimethod design. A study relying on QCA and PT has the potential to combine the strengths of cross-case causal inference of multiple policy interventions (equifinality) and within-case causal inference through within-case analysis of individual interventions (causal mechanisms).
To read more about this research, please click here.