Book
New book: "Nederland pensioenland: What you want to know about pensions"
What are the arrangements for your pension? What are you entitled to? Until what age do you have to continue working? And can you decide for yourself how your pension contribution is invested?
Author

Natascha van der Zwan

Date

19 September 2016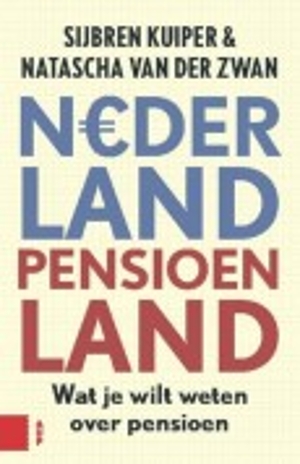 These are all questions which bother many Dutch people but to which they often do not know the answers.
With Nederland Pensioenland, pension specialists Sijbren Kuijper and Natascha van der Zwan guide their readers through the labyrinth of the complicated Dutch pension system.
Reviews
"For those who think pensions are quite important, but too complicated to explore, this book is a must. By explaining the various aspects of pensions step by step, the authors guide the reader through the labyrinth of the Dutch pension system. (…) Compulsory reading for those who wish to decide their own position in the pension debate."
– Prof. Paul de Beer, professor by special appointment of labour relations at the University of Amsterdam

"Nederland pensioenland makes pensions understandable and accessible. Very readable, clear and orderly. Honest about the future"
– Prof. Mark Heemskerk, professor by special appointment of Pension Law at Radboud University
More information
Nederland pensioenland. Wat je wilt weten over pensioenen: €14.95
September 2016
175 pages
Paperback
ISBN 978 90 8964 725 2
e-ISBN 978 90 4852 464 8
Available in bookshops or to be ordered.