Dissertation
Wild West Frisia
The role of domestic and wild resource exploitation in Bronze Age subsistence
Author

Yvonne van Amerongen

Date

30 November 2016

Links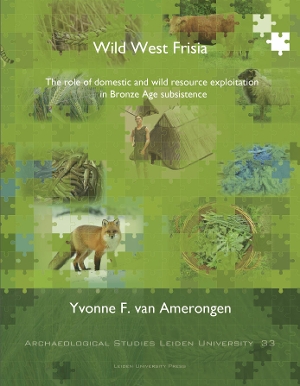 This 33rd volume of the ASLU series is focused on the reconstruction of the daily lives of Bronze Age farmers and the landscape in which they practiced their subsistence. In this work, a new approach for investigating the subsistence economy is presented, which not only tries to identify and analyse all the aspects related to landscape and subsistence, but also integrates them in a manner that shows that farming is more than the sum of its parts.
The analysis of the separate components of which Bronze Age subsistence consists (i.e. crop and animal husbandry, hunting and gathering) is performed in an innovative manner: instead of listing a summary of the known data for each subsistence strategy and drawing conclusions solely based on these observations, it is first established what may have been present, but may not or no longer be visible. This expectation is constructed based on the integrated input of a variety of disciplines which include ethnography, ecology, biology, archaeology, archaeozoology, biochemistry, statistics, ethnobotany and archaeobotany.
By contrasting this expectation with the actual archaeological data, missing elements become apparent. Amongst others, this has resulted in the recognition that wild resource exploitation may have been equally or even more vital to farming life than the practice of crop and animal husbandry. Comparing the case-study area of West Frisia, the Netherlands, with north-west European coastal communities in general has revealed that local variation appears to be a consistent aspect of farming in the Bronze Age and can in fact be regarded as a common feature of subsistence during this time.