Book
The Agro Pontino archaeological survey
ASLU 11
Author

S. Holstrom, A. Voorrips & H. Kamermans

Date

01 January 2004

Links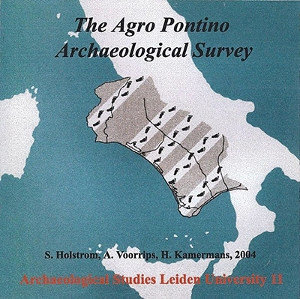 The Agro Pontino archaeological survey was conducted from 1979 to 1989 by the University of Amsterdam joined by the University of Leiden in 1986 and 1988. Seven survey campaigns took place.
The goals of the survey were:
to describe the distribution of archaeological surface materials as accurately as possible;
to place these materials, ranging from the Middle Palaeolithic to the Post-Roman period, in a rough chronological framework; and
to determine for each prehistoric period the factors contributing to the distribution observed.
In addition, there was an emphasis on the changing prehistoric landscape and landuse. An overview of the archaeological survey activities, along with some preliminary results, was published in 1991 (Voorrips et al. 1991).

On the CD you will find the annotated and illustrated catalogue of the Agro Pontino Archaeological Survey. It contains also a paper 'Archaeology and Land Evaluation in the Agro Pontino (Lazio, Italy)' by H. Kamermans, and a paper 'Late Quaternary Vegetation History of Latina, Italy: a Final Report on the Mezzaluna Core' by W.R. Eisner and H. Kamermans.
The CD contains further the spatial data used in the catalogue; both in the MapInfo format and the MapInfo export format, as well as the MicroSoft Access database with all the field data of the survey.
ISBN 90-76368-11-2