Dissertation
Starchy foodways
Surveying Indigenous Peoples' culinary practices prior to the advent of European invasions in the Greater Caribbean
Author

A.J. Ciofalo

Date

25 March 2020

Links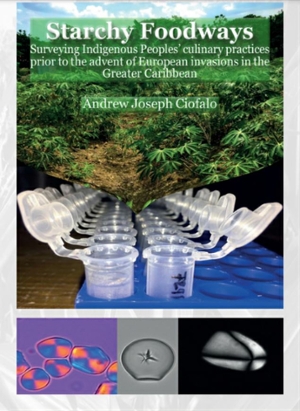 The foodways approach to archaeobotanical investigation is used in this dissertation for reconstructing lost and forgotten lifeways. In this research, microbotanical residues (starches) were recovered from different types of presumed plant-related artifacts excavated in three geographic regions: the northwestern Dominican Republic, the Bahama archipelago, and central Nicaragua.
Four case studies from five archaeological sites were examined. One case study contributes the first examination of limestone tools and the first certain identification of manioc (cassava) in the Bahama archipelago. Another case study provides additional evidence for the use of exogenous plants in the northern Caribbean and identifies certain plants that were pre-cooked before being processed further using bivalve shells.
This dissertation paints a dynamically diverse picture of Indigenous Caribbean Peoples' culinary practices. The results and discussions of human-plant adaptation strategies involved exogenous plant translocation. Each chapter demonstrates that culinary practices from these case study sites incorporated some poisonous plants into recipes to produce edible meals. Overall, this dissertation creates a more refined insight into how starchy culinary practices varied in the Greater Caribbean.