Book
Pre-Colonial and Post-Contact Archaeology in Barbados
This volume provides one of the most comprehensive overviews of the archaeology of a single Caribbean island yet published. Drawing together scholars from the Caribbean, north America and Europe, all working from a range of disciplines within the broader scope of archaeology, and drawing upon recent and innovative fieldwork, the collected papers touch upon a wider variety of archaeological case studies.
Author

Edited by Maaike S. de Waal, Niall Finneran, Matthew C. Reilly, Douglas V. Armstrong & Kevin Farmer

Date

01 December 2019

Links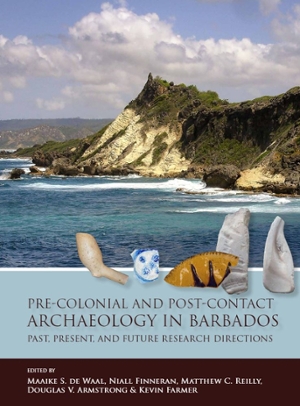 Past, Present, and Future Research Directions
Divided into four sections each under the editorial supervision of a specialist scholar, the papers contained in this volume start with an overview of different approaches to the pre-contact archaeology of the island of Barbados and focus upon recent debates and issues surrounding material culture, economic change and site location. Two following sections focus upon recent developments in historical archaeology, looking at a series of urban and plantation case studies, and then the application of scientific techniques to material cultural and ecofactual evidence. The final section considers the social implications of Barbados' past and recent developments in community heritage, education and management.
Extensively illustrated and referenced, this volume considers in detail the historical diversity of archaeological work undertaken on the island, yet will also look forward to examine the key trends and currents that will inform the study of the archaeology of Barbados in the future. With such a rich wealth of material, this is a volume that will have considerable impact upon the wider context of Caribbeanist archaeology, history and heritage studies.