Dissertation
Mobile peoples - permanent places
This dissertation is a study of archaeological remains left behind by nomadic communities in the Black Desert, situated in the northeast of modern Jordan.
Author

Harmen Huigens

Date

22 November 2018

Links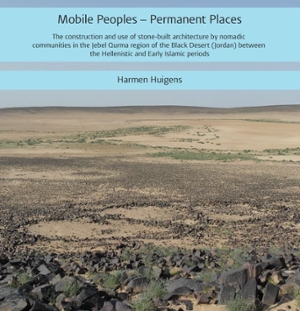 The construction and use of stone-built architecture by nomadic communities in the Jebel Qurma region of the Black Desert (Jordan) between the Hellenistic and Early Islamic periods.
Between the Hellenistic and Early Islamic periods - roughly the late 1st millennium BC and the 1st millennium AD - the Black Desert was frequented by nomadic communities who are best known for the Safaitic inscriptions and rock art they left behind on the basalt boulders that characterise this desert environment. These remains, however, provide an incomplete view of those who carved them, and this study aims to provide new information on these nomads by studying the rich and well-preserved archaeological remains they left behind. It specifically focuses on stone-built architecture, notably burial cairns found often on hilltops and ridges, and enclosures situated at campsites used by nomads. These features are studied through archaeological methods such as remote sensing, field surveys and excavations.
The study makes clear that in addition to textual and pictorial carvings nomadic communities invested significantly in their surroundings through the construction of elaborate and long-lasting structures. These served various social and economic purposes on the short and long term. The study thus provides an alternative view on nomad-landscape interaction in anntiquity.