Dissertation
Interaccion Colonial en un Pueblo de Indios Encomendados
El Chorro de Maita, Cuba
Author

Roberto Valcarcel Rojas

Date

01 January 2012

Links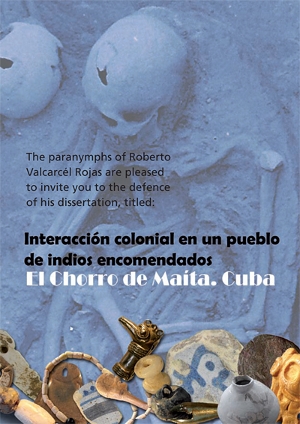 This study generates a new vision on El Chorro de Maíta, an exceptional archaeological context in northeast Cuba of great importance for the understanding of early colonial spaces in the Caribbean.
The research adopts a multidisciplinary approach which evaluates numerous lines of archaeological evidence and historical data.
The theoretical basis is that domination plays a key role in the structuring of relationships among individuals, cultures and societies. Basic forms of domination are identified in El Chorro de Maíta, a village of indios encomendados: people forced to work for the Spaniards in exchange for religious and "civilizing" instruction.
The cemetery, located in the village, reveals an ethnic diversity that includes indigenous people from different regions, mestizos and an African individual. A diversity of identities is also revealed, some constructed through adaptations to colonial life ('indi ans'), and others through ethnic and cultural mixing.

This ethnogenesis, as well as the syncretic peculiarities in some burials, and the very in-between nature of the cemetery itself as a colonial product where indigenous and Christian traditions are conserved and combined, represents a context of emergent sixteenth century transculturation, in which indians are active social agents fighting for their survival.