Book
Analecta Praehistorica Leidensia 42
Eyserheide. A Magdalenian Open-Air Site In The Loess Area Of The Netherlands And Its Archaeological Context.
Author

Dr Eelco Rensink

Date

01 January 2011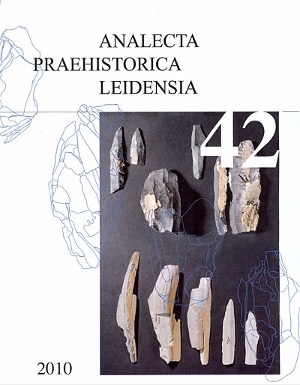 Analecta Praehistorica Leidensia 42 reports on the results of the excavation of a Magdalenian open-air site near Eyserheide in the loess-covered hills of the southern Netherlands. The monograph addresses in a comprehensive way a variety of, often closely interrelated subjects relevant to the study of Late Upper Palaeolithic hunter-gatherers in Northwestern Europe.

In the first part of the monograph, an extensive account is given of the flint types used for the production of stone tools, and of the typological and technological characteristics of the flint artefacts. Using data of an extensive refitting program and making reference to the 'classic' Magdalenian sites southeast of Paris (Pincevent, Verberie, etc.), trends in flint working and technological operations are described for Eyserheide. This part also includes the interesting contribution by Katsuhiro Sano dealing with the unexpected results of micro-wear analysis of 44 flint artefacts.

The second part deals with intra-site spatial analysis. Despite disturbances of the archaeological layer by bioturbation and ploughing, the analysis has provided valuable information on the organization and use of the camp site. Of special interest is the discussion of the distribution of flint artefacts and unworked stone in the central, find-rich part of the excavation, also confronting this distribution with the hearth seating model of L. Binford and the ring and sector method of D. Stapert.

Finally, the last part of the monograph provides a detailed discussion of the Eyserheide site and the nearby open-air loess sites in the context of Magdalenian colonization of the northwestern part of Europe. Taking into account available information on Dutch-Belgian Cretaceous flints in German (including Andernach and Gönnersdorf) and possibly also in Belgian cave sites (Ourthe Valley group), the relationship between the Magdalenian occupation of the Meuse-Rhine loess area and that of two more southerly regions is examined: the German Central Rhineland and the Belgian Ardennes.
Analecta Praehistorica Leidensia 42 is an eye-opener to all people, including teaching professionals and students, interested in Palaeolithic archaeology. The book demonstrates the great value of surface sites disturbed by bioturbation and ploughing for the investigation of Late Upper Palaeolithic societies. Therefore, this category of sites deserve our full attention in both archaeological heritage management and academic research.
Order Analecta Praehistorica Leidensia 42
Analecta Praehistorica Leidensia
[ISSN 0169-7447], 42,
P.J.R. Modderman Stichting
ISBN 978-90-818109-0-6
276 pages.
Price: €50
This volume can also be ordered at: Sidestone Press
Download this issue from the Leiden University Repository:
Analecta Praehistorica Leidensia 42 / Eyserheide : a Magdalenian open-air site in the loess area of the Netherlands and its archaeological context
Rensink, Eelco (Faculty of Archaeology, Leiden University, 2010)