Research facilities
NMR Facility
Application

At the NMR facility we study the synthesis of paramagnetic molecules. These molecules make it possible for NMR spectroscopy to learn many things about the structure and dynamics of proteins. This knowledge provides the basis for a new medicine that binds to a protein or for the development of new vaccines. Drug development is one of the core activities of Universiteit Leiden.

Availability

Information about the instruments and contact can be found via the portal 'Open Access Research Infrastructure' (OARI)

Location

Contact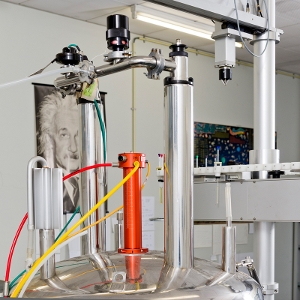 Research groups within the institute that use the facility are:
Bio-organic Synthesis
Catalysis and Surface Chemistry
Metals in Catalysis, Biomimetics & Inorganic Materials
Macromolecular Biochemistry
Supramolecular and Biomaterials Chemistry
Solid State NMR/Biophysical Organic Chemistry
The facility has 8 spectrometers (DPX-300, DMX-400, AV-400-liquid, AV-400-imaging, AV-500, AV-600, AV-750, AV-850). The main objectives are to provide support for performing Liquid state NMR experiments, Solid state NMR experiments and Micro-coil Imaging. The service is extended to collaborate with researchers interested in the structures of molecules from other universities and also by industrial research groups.
The NMR Facility had been made possible by an NWO-Groot grant and Universiteit Leiden.