Research facilities
NMR Facility
Application

Nuclear Magnetic Resonance (NMR) Spectroscopy is a non-destructive analytical technique that is used to study the nature and characteristics of molecules with an atomic level precision. It has a wide range of applications especially in synthetic chemistry, biological and biochemical research groups and also in drug developments. It has the capability to determine the composition of samples and structure of molecules, ranging in size from very small to extremely large, including solid materials. With more specialized experiments, one can also study the structure and dynamics of proteins. The most common nuclei studied by NMR are 1H, 2H, 13C, 11B, 15N, 19F, 27Al, 29Si, 31P and 195Pt.

Location

Contact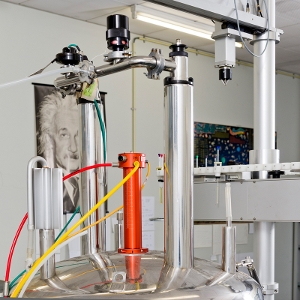 The facility has 7 spectrometers (AV-300, AV-400-liquid, AV-500, AV-600, AV-750, AV-850). The main objectives are to provide support for performing Liquid state NMR experiments, Solid state NMR experiments and Micro-coil Imaging. The service is extended to collaborate with researchers interested in the structures of molecules from other universities and also by industrial research groups.
Applications
The Leiden University NMR facility is a member of the Netherlands consortium of NMR facilities, uNMR. Access to these facilities can be applied for via the uNMR website.
The NMR Facility has been made possible with funding from NWO and Universiteit Leiden.