Research facilities
NeCEN
Application

With the powerful electron microscopes at NeCEN we study abnormalities in cells of blood vessels in cardiovascular disease, the interaction between pathogens and hosts in infectious diseases, molecular processes that cause cancer and the interaction between drugs and target proteins. Drug development is one of the core activities of the University of Leiden.

Availability

Information about the instruments and contact can be found via the portal 'Open Access Research Infrastructure' (OARI)

Location

Contact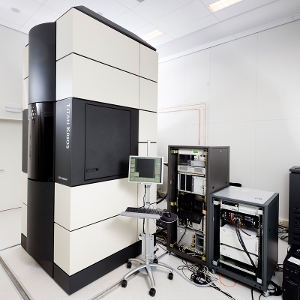 NeCEN is the open access facility for cryo-TEM in The Netherlands. NeCEN offers research institutes and companies to explore complex biological structures. Interested parties can do single particle analysis and cryo tomography applications. Proposals must be made on the NeCEN website and access is chargeable. NeCEN houses two FEI Titan Krios microscopes; Krios 1 is equipped with a Gatan Quantum Energy Filter, a FEI Phase Plate, a Falcon 2 Direct Electron Detector and a Gatan K2 Summit. Krios 2 is equipped with a X-FEG, Cs Corrector and Falcon 2 Direct Electron Detector. Both microscopes are equipped with STEM detectors.
NeCEN@biology.leidenuniv.nl
Universiteit Leiden
Leiden University Medical Centre (LUMC)
TU Delft
Erasmus Medical Centre
Erasmus University Rotterdam
Utrecht University
Rijksuniversiteit Groningen
Nederlands Kanker Instituut
FOM/AMOLF
TU Eindhoven
NeCEN has been made possible by a grant of the 'Nederlandse Organisatie voor wetenschappelijk Onderzoek' (NWO).