Research facilities
NeCEN
Application

With the powerful electron microscopes at NeCEN we study abnormalities in cells of blood vessels in cardiovascular disease, the interaction between pathogens and hosts in infectious diseases, molecular processes that cause cancer and the interaction between drugs and target proteins. Drug development is one of the core activities of the University of Leiden.

Location

Contact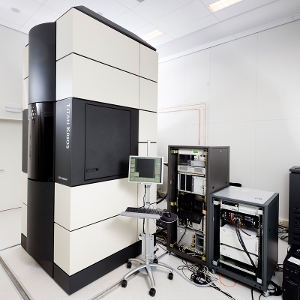 NeCEN is the open access facility for high resolution cryo-electron microscopy of biological samples in the Netherlands. NeCEN offers research institutes and companies the opportunity to explore complex biological structures.
Two state-of-the-art Titan Krios transmission electron microscopes allow efficient and automated high resolution data collection in its two most broadly used forms: single particle analysis (SPA) and cryo-electron tomography (cryo-ET). These imaging techniques allow visualisation of biomolecular structures, such as proteins, macromolecular complexes, bacteria, and cell organelles at subnanometer resolution in close-to-native conditions (no chemical fixation or staining required).
More recently NeCEN acquired two new instruments allowing local users to prepare, check and optimise specimen preparation conditions (a screening cryo-TEM and a cryo FIB-SEM).
Proposals must be made on the NeCEN website and access is chargeable. Financial support is possible from different sources (iNEXT, Instruct-ERIC, NEMI).
NeCEN@biology.leidenuniv.nl
Universiteit Leiden
Leiden University Medical Centre (LUMC)
TU Delft
Erasmus Medical Centre
Erasmus University Rotterdam
Utrecht University
Rijksuniversiteit Groningen
Nederlands Kanker Instituut
FOM/AMOLF
TU Eindhoven
NeCEN has been made possible by a grant of the Dutch Research Council (NWO).