Week 2: 15–21 January
The second week started with a free morning to go back to the museum and visit the collection but also the database for our two assignments. After we all did our work at the database that is in the basement, we went to our Arabic class.
On Monday we started with a visit to Documentation Center of the Ministry of Tourism and Antiquities where Hisham el-Leithy kindly introduced us to the various archival work they are doing, with photographs and written documents.
Afterwards we said our goodbyes to Khawla because it was our last Arabic lesson. In the evening several of us went to the 'Egyptian Archaeologists Day' in the Cairo Opera house. On this evening awards are given to many Egyptian archaeologists in thank for their work. After the awards were given we were surprised by a performance of the Cairo Ballet, putting on short dances of different styles. Accompanying the dancers were scenes projected behind them that showed different places in Egypt. After the ballet and a short break, the orchestra performed together with some guest singers that were apparently very famous in Egypt because the entire room was singing and clapping along. It was truly an amazing experience, we were also laughing and clapping along the entire time, and it was very different from a performance of an orchestra in Belgium or the Netherlands.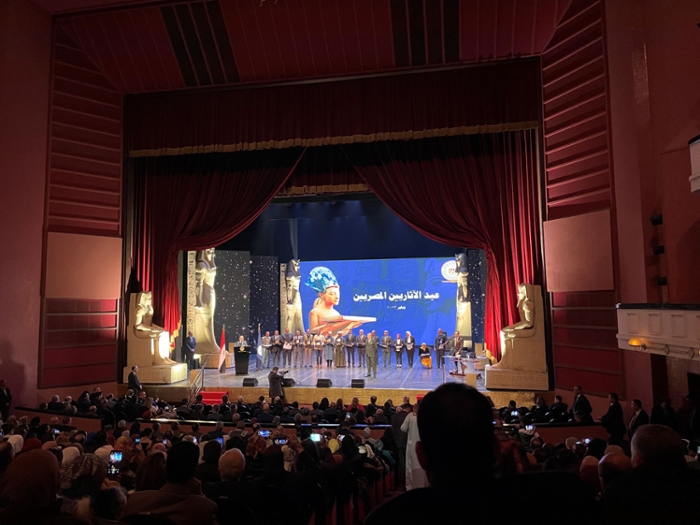 On Tuesday we went on a day trip to Tanis, which was a three to four hour ride through the Delta. The drive there was sometimes a little bumpy because the driver took us through small villages where the roads were not so good, but it was a nice occasion to also see how people live outside the big cities like Cairo. When we arrived at Tanis we first stopped at the new visitor center where much information is provided about the site, its research history, and its find. Then we walked up the tell where also the French dig house is located and from where we had a great view over the enormous site, making it easier for us to picture were all the temples and other buildings are located. Tanis was the capital of the 21st and 22nd Dynasties and is known for its many obelisks. However, in recent years some were removed, for example the obelisk now on Tahrir Square comes from there, as well as the obelisk now at GEM (the Grand Egyptian Museum). The site itself consists mostly of blocks that are no longer in their original place. Many of the blocks are decorated, most often with the name of Ramses II. We were challenged to find names other than Ramses, and after some searching we finally found a few other pharaohs. Many of the blocks at Tanis were reused from other sites, which is why we saw several of them upside down in new architectural features. We ended the tour with a visit to the royal necropolis and then headed home.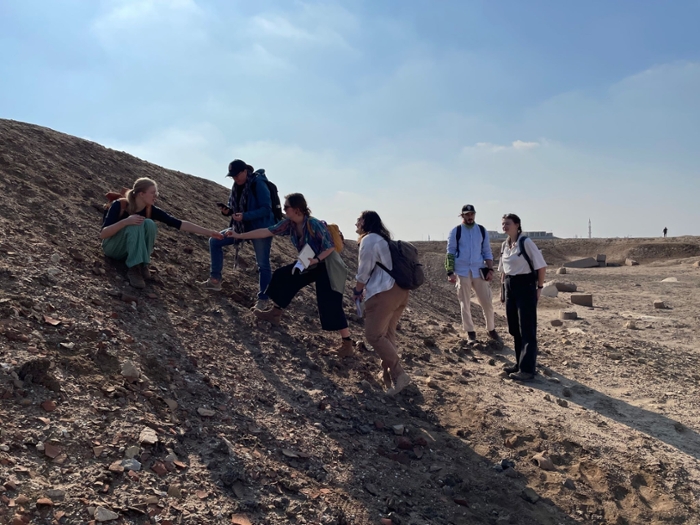 The following days we had time to work on our assignments, since some of us needed to prepare for their site presentation in Luxor. On Thursday we had an info session to prepare us for our two week trip to Sohag and Luxor. Afterwards there was a lecture at the NVIC about damaged images and images of damage in the Old Kingdom presented by Vera Allen. This lecture was really interesting and we learned a lot about this topic. Friday and Saturday we were all busy washing our clothes and packing our luggage for Luxor.
Kirsten Uyttersprot