Week 6: 11-17 February 2018
It seems only yesterday since we arrived in Egypt, but alas, we almost have to go back already. After the eventful weeks in Luxor and Aswan, the past week was almost peaceful. We kicked of the week with a visit to the Construction site of the Grand Egyptian Museum, or GEM for short. It was astounding. We have seen many marvels of ancient engineering during our time here in Egypt, and they have all been impressive, but it is nice to be reminded of the fact that people today are also capable of spectacular construction projects. I'm sure the great pyramid wasn't finished on time either. We were guided through the site by Laurens Schokking, the (Dutch!) chief engineer, who was happy to point out all the different design principles that guided this huge undertaking, even those that were no longer being followed due to financial or other reasons. After a group picture at the freshly moved statue of Ramses II, we set off to the GEM conservation centre, where we got a short tour of a few of the labs. I must say I had not expected to see Tutankhamun's underwear that day, but alongside some of his beds, chariots, jewellery, and armour, there it was in the organic materials lab. Roughly half of the museum will be dedicated to the exposition of the entire inventory of Tutankhamun's tomb, so as a result of this the conservators are busy recording and restoring many of his never before exposed objects, which includes apparently registering every crease and stain on his underwear. What a life.
The day after our GEM trip, we all went on a day trip to Saqqara, where among other things, we got to admire the wonderful reliefs in the mastaba of Mereruka. Some of us were so entranced by their intricacies that we got locked in for at least fifteen minutes without even noticing. I think there are worse places to be locked up in. One of the sad things about a program such as this one is that even with two months, you can never see everything, and you have to ration your time. Of course we also visited the pyramid of Djoser while we were there, and we concluded our visit at the Bubasteion, where Charlotte gave a fascinating presentation about two of the tombs that had been reused for cat mummies later, but had originally belonged to Maia (Tut's nurse) and Netjerwymes (an envoy of Ramses II who negotiated the earliest known peace treaty in the world!). These two little tombs were exquisitely decorated, and it was really cool to be able to connect the tomb owners to well-known events they had played a part in.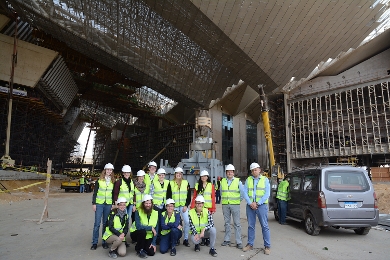 Most of the rest of the week was spent in libraries and the Egyptian museum, with all of us scrambling to get our papers, lectures, and presentations done for ever closer, looming deadlines. Luckily we got some respite on Saturday with an eye-opening trip to Coptic Cairo, or Fustat, where we visited the beautiful Coptic museum and the impressive hanging church, where many of us were inspired by the beauty of Coptic ornament. It was very nice to experience a different aspect of Egyptian history than we usually do as Egyptologists. In the afternoon we went to the National Museum of Egyptian Civilisation, for a slightly more orthodox Egyptological visit to a temporary exhibition on production techniques throughout Egyptian history. Seeing as the museum has only had a so called "soft opening" this gallery was the only one which we could visit, and besides it the huge museum looked abandoned, but I must say it was very nice, and contained many wonderful objects that were well presented. As a big fan of production methods, I could have easily spent a few more hours there.
David Dujardin